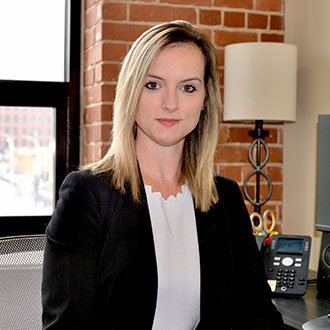 Leah J. Boisclair
Attorney
Attorney Boisclair first joined the Law Office of John L. Calcagni, III, Inc. in the summer of 2018 as a law clerk after her first year in law school. She spent the summer working on federal criminal matters, to include assisting in a federal jury trial in the United States District Court for the District of Rhode Island. She continued to work under Attorney Calcagni's tutelage for the remainder of her law school education. After graduating in 2020, Attorney Boisclair transitioned with the office into a full-time associate. She is admitted to practice law in Rhode Island, Massachusetts, and Connecticut.
Attorney Boisclair attended the University of Rhode Island, graduating cum laude, with a bachelor's degree in 2017. She subsequently attended Roger Williams University School of Law, graduating cum laude in December 2019.
Prior to joining Calcagni Law, Attorney Boisclair interned at the Federal Public Defender's Office in Rhode Island where she expanded her practice and experience defending a wide variety of criminal charges in United States District Court, alongside full-time federal defenders and against members of the United States Attorney's Office.
Attorney Boisclair focused her time as a student participating in practical skills training such as trial team and moot court. Further, she served as a Rule 9 Student Attorney in the Roger Williams University School of Law Criminal Law Clinic, where she gained the opportunity to defend clients against criminal misdemeanor charges in Rhode Island District Court. Similarly, she interned for the Committee on Public Counsel Services in Bristol County Massachusetts where she worked on Massachusetts criminal matters.
Attorney Boisclair is the newest edition to Calcagni Law. Her energy, passion, and broad skill set as a young female criminal defense attorney brings great value to our clients, their families, and most of all, to obtaining optimal results in our cases.