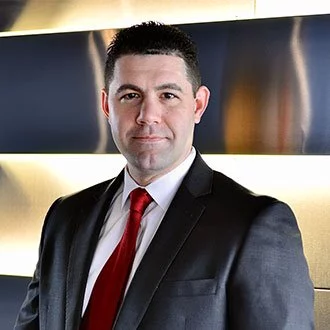 John Pensa
Associate Attorney
John D. Pensa, Esq. is an Associate Attorney with the Law Office of John L. Calagni III, Inc
Attorney Pensa is a graduate of the Roger Williams University Law School and State University of New York where he studied both criminology and law. After completing his education, Attorney Pensa gained admission to practice law in the Commonwealth of Massachusetts and before the U.S. District Court for the District of Massachusetts.
The Law Office of John L. Calcagni III, Inc. is a multi-jurisdictional criminal defense practice. Attorney Pensa manages the day-to-day operations of the firm's Massachusetts practice of defending clients charged with misdemeanor and felony offenses throughout the Commonwealth. Attorney Pensa regularly practices in District and Superior Courts all throughout the Commonwealth. He is well-versed in all aspects of criminal defense representation to include investigations, arraignments, bail, dangerous hearings, bail petitions, pretrial conferences, motions, and trial.
Attorney Pensa has expertly handled a wide variety of criminal cases involving controlled substances violations, drug trafficking, motor vehicle offenses, domestic violence, weapons charges, theft offenses, fraud, child pornography, rape, assault and battery, indecent assault and battery, conspiracy, assault with intent to murder, operating under the influence of alcohol or drugs, and other crimes. He has also represented both juvenile and adult clients, to include those who are challenged by mental illness or substance abuse.
Attorney Pensa enjoys an excellent reputation with both the Courts and District Attorney's Offices throughout the Commonwealth. He is intimately familiar with the procedures and nuances of the various county systems throughout the state. Attorney Pensa is a tireless advocate for our client. He works around the clock and in all conditions to maximize the positive result for everyone. If he cannot get a case dismissed, he ensures that each client receives the next best possible result and treats our clients like family.
The Law Office of John L. Calcagni III is proud to have this unstoppable soldier on the battlefield fighting for our clients each day in the trial courts of Massachusetts.
If you have been charged with a criminal offense in Massachusetts contact MA Criminal Defense Lawyer John Pensa.