Why Hire Federal Criminal Lawyer John L. Calcagni to Defend Your Case
When you need the assistance of a Federal Defense Lawyer, it is highly advisable that you hire someone who has extensive experience within the federal system.This fact would be important no matter what kind of lawyer you needed to hire. However, there are certain areas of the practice of law that require more experience and exposure than others, and Federal Criminal Defense is one of them.
As a former prosecutor with the US Army JAG Corps and the US Attorney's Office, Federal Attorney Calcagni is well versed in the prosecution and defense of all types of federal criminal cases. This experience is invaluable in his ability to defend accused individuals on trial for federal crimes.
A Brief Explanation of the Federal Criminal System
One of the main differences between the Federal and State Criminal Justice systems is the amount of resources that are available to each one. In the Federal system, the United States Attorney's office has attorneys who typically have better academic credentials, as well as the decision making power regarding which cases they will prosecute.
Common Federal Charges
Some of the most common federal charges include:
Drug Trafficking – Possessing, selling, manufacturing, importing and trafficking large quantities of drugs may be charged as a federal crime.
Child Pornography – If suspected of possessing, sending, receiving or creating obscene materials depicting children in a sexual manner, you can be prosecuted in a federal court.
Organized Crime – Organized crime activities involving violence or threats, robbery, money laundering, fraud, and any other illegal activities can be prosecuted in a federal court.
White Collar Crimes – Failure to pay taxes, forging checks, fraudulently applying for state benefits, faking disability, wire fraud, bank fraud, aggravated identity theft, are just a few common examples.
Except for those crimes that occur on federal land, crimes that are under the exclusive jurisdiction of federal prosecutors are generally interstate crimes. These crimes by their nature are more complex both factually and legally, and therefore, more difficult to defend. This is why the cost associated with Federal Criminal Defense cases can be higher than those on the state level, and this is also why indigent defendants are referred to the Federal Defender's office.'
The Federal Court Process
For our free guide and flow chart describing the federal court process, please click here.
Federal Defense Case Results
Federal Case Timeline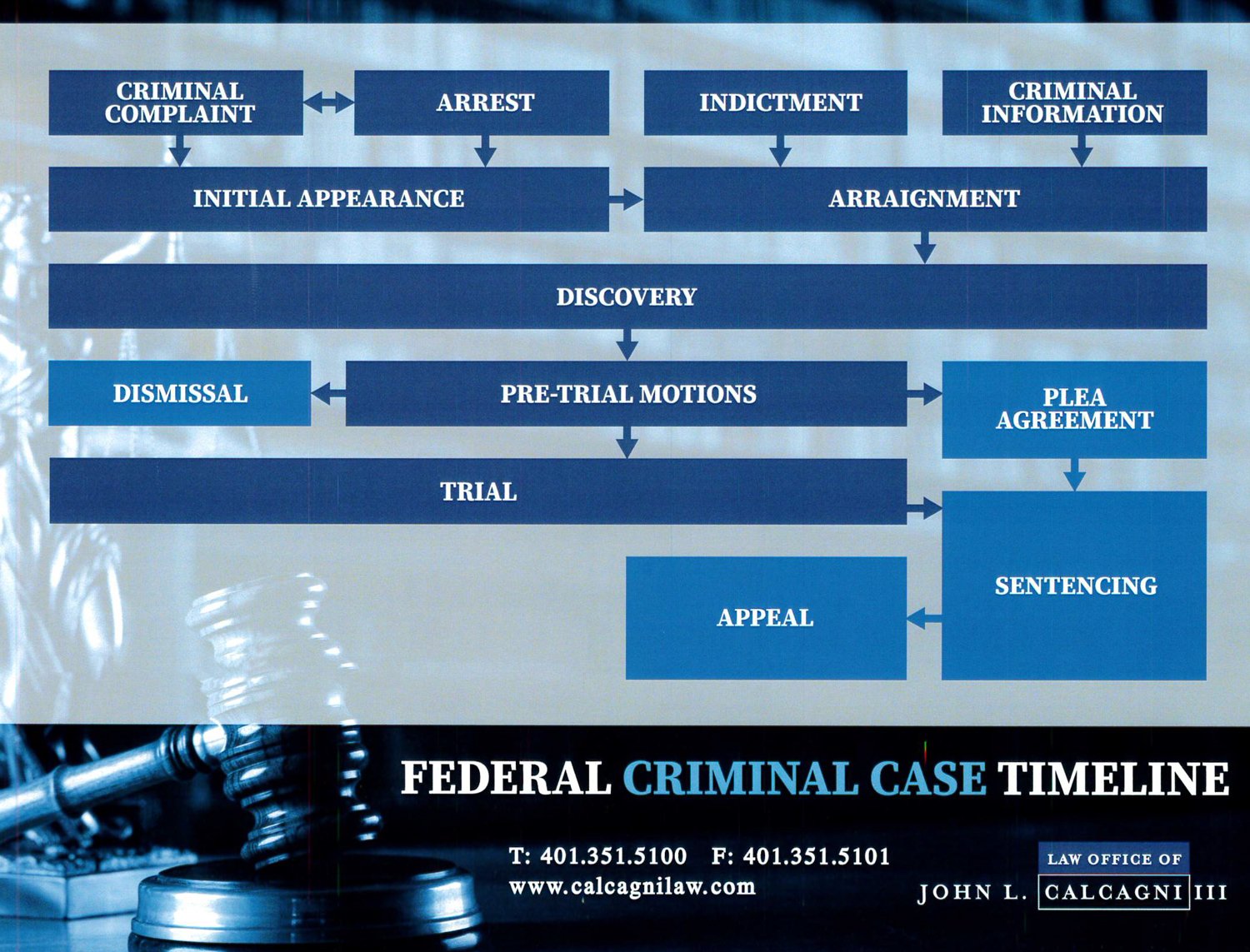 For a complete overview and glossary of terms for federal crimes see Federal Crimes Timeline
Frequently Asked Federal Defense Questions
Federal Criminal Defense Attorney
If you are accused of a crime in federal court, it's imperative you seek representation from a federal criminal defense attorney with an extensive history and experience with handling federal cases. Federal court is a world of its own, and completely separate and distinct from state criminal court.
John L. Calcagni III has represented innumerous clients in both state and federal courts and has a proven, winning track record. He understands the intricacies and differences between the state and federal judicial systems and how to represent you with your best interests and the best possible outcome in mind.
The federal criminal justice system is very different from the state criminal justice system. Federal courts have limited power and authority when it comes to criminal cases, but in those areas where federal crimes apply, the laws are extremely powerful and often call for mandatory minimum jail sentences for convicted offenders. Federal criminal procedure and practice is also more demanding than what practitioners typically encounter in state court. For these reasons, it is vital that if charged with a federal crime in federal court that you obtain representation from a lawyer who has handled federal cases before and seen them through to favorable outcomes. By choosing a lawyer inexperienced in federal court or with federal criminal defense cases, you are rolling the dice on the outcome, and gambling with both your freedom and future.
Grand Jury Testimony Subpoena
If you are summoned to appear before the Grand Jury, you will need to discover the same information involved in being contacted by a federal agent. Knowing whether you are being considered as a witness or as a suspect is paramount to determining what information, if any, you will need to provide. In each instance, it is highly advisable that you have a federal attorney present and advising you every step of the way.
A federal defense lawyer can help you determine when to speak, and when it will be necessary to plead to the "5th Amendment" against incriminating yourself. Your criminal defense attorney, in some cases, will also be able to open a dialogue with the US prosecutors regarding plea agreements or a deal for immunity in return for your cooperation in their investigation.
For more about representation at a Grand Jury Subpoena click here.
A federal defense attorney will not be cheap, and should not be someone who handles an occasional case on this level. You need to make sure that you get what you are paying for, and hire an attorney you is proficient at the Federal level of criminal defense.
Call Now for a Free Consultation
John L. Calcagni III is a former federal prosecutor. As a criminal defense lawyer, he offers his clients the many years of experience he has from handling cases in federal court both for the government and many defendants. If you are under investigation or have been charged with a crime in federal court, you want a lawyer with his knowledge and experience in your corner.
Call Federal Criminal Defense Attorney John L. Calcagni III today by email or call today at (401) 351-5100 to schedule a free consultation.