Beware of the Body Worn Cameras and Dangers of Inadvertent Self-Incrimination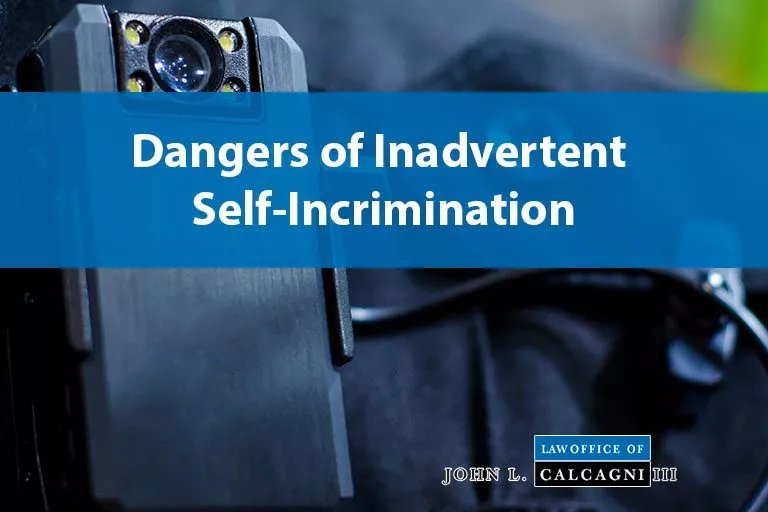 The Growing Prevalence of Body Worn Cameras (BWC) in Law Enforcement
Police departments and law enforcement agencies across the country, including those in Rhode Island and Massachusetts, are increasingly equipping officers with body-worn cameras (BWC). When worn, these small and inconspicuous devices are attached to a police officer's tactical vest or shirt. The cameras are then activated by the wearing officer upon his or her receipt of a call for service, arrival at a crime scene, or encounter with a suspect or witness during an investigation.
Most often, the cameras are automatically activated under these circumstances and obtain both audio and video recordings of the police officer's actions and interactions with others. Because of the increasing use of these devices, made readily available due to technological advances, civilians must be aware of the wide use of BWCs, and the dangers of inadvertent self-incrimination.
The Legal Right Against Self-Incrimination and the Miranda Warning
The 5th Amendment to the United States Constitution and state constitutional corollaries provide that citizens have the fundamental right against self-incrimination. This means that no person may be compelled to offer statements or testimony against themselves, which may lead to self-incrimination.
As such, persons have the absolute right to remain silent when confronted and questioned by police. The so-called Miranda rights, which advise individuals about the rights to remain silent and against self-incrimination when questioned by police are not always required to be given.
Legally, police must only advise a suspect of these rights if the person is in police custody and subject to police questioning or conduct reasonably likely to lead to an incriminating statement.
As a result, police are not required to advise one of their Miranda rights during each and every police-citizen encounter. The presence of BWCs during these routine encounters, however, now have the ability to record anything said to police, which may lead to inadvertent or accidental self-incrimination.
The Silent Danger of BWCs: Inadvertent Self-Incrimination
The BWC essentially creates a video recording, taken from the perspective of the officer wearing the camera, of all statements and actions by police, as well as those within camera range. Police routinely encounter people in the normal execution of their duties. These routine encounters most often do not require the Miranda rights warning or advisement.
However, this does not mean you cannot accidentally incriminate yourself by providing police with your recorded statements. This is the silent danger posed by the existence of a BWC. While these devices are aimed at protecting police against false accusations of misconduct, and equally protecting citizens from bad police practices, their pervasive use can lead to the government collecting additional evidence, including your statements, during routine investigations.
How BWCs Record Routine Encounters and Potential Risks
By way of example, a Rhode Island elected official was recently charged with vandalism after keying a parked car. The incident was apparently captured on surveillance, prompting police to visit the official's home as part of their investigation. The man's vehicle registration was detected on video as he left the scene. The officers who visited the man's home were equipped with BWCs. The cameras were activated by police during their initial encounter with the man.
When confronted with the suspected vandalism, the man denied his involvement, and told officers that he was not the suspect captured on video. The man had apparently changed or removed some of his clothing after the incident, and before encountering police. The man's entire interaction with police was recorded, and then leaked to the media, which resulted in further embarrassment to the elected official and damage to his political reputation.
The recorded lies, however, also became evidence to support the additional criminal charge of obstructing justice. If the official had never spoken to police, his comments would never have been recorded and become new evidence against him. This factual scenario, however, highlights the dangers posted to civilians (including suspects and criminal defendants) by the existence of body-worn cameras.
Real-Life Example: BWCs as Evidence in Criminal Cases
Technology will continue to evolve, and future technological enhancements will inevitably be incorporated by police to further the objectives of law enforcement. These advances will pose new challenges, and risks to infringing upon the rights of civilians within the community.
The aim of this article is to educate individuals of the reality the BWC, which is ever present within the community, as worn by police, and are recording every word and movement between police and others with whom they interact.
The recorded footage is then preserved, and used as evidence in criminal cases. Knowing this to be the case, persons are advised to beware of inadvertent or accidental self-incrimination to police, as your words may later be used as evidence against you to support new or existing criminal charges.
The Ongoing Technological Evolution and its Impact on Civilian Rights
If you have been charged with a crime or have questions about the use of BWC recordings in your criminal case, contact the RI Criminal Defense Law Office of John L. Calcagni III, Inc. at 401-351-5100 for a free consultation.