Rhode Island domestic violence defense lawyer
If you are facing domestic violence charges in Rhode Island, hiring an experienced domestic violence lawyer is essential for best case results. Call former federal prosecutor and award-winning Criminal Defense Lawyer John L. Calcagni, III today at (401) 351-5100 to schedule a free consultation.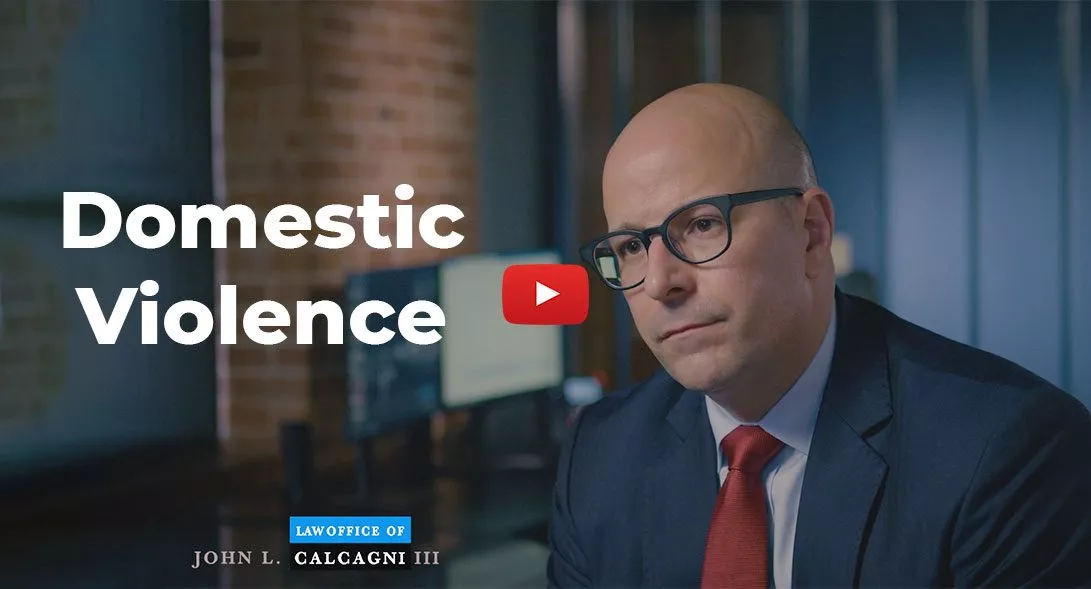 What are domestic violence offenses?
In Rhode Island, domestic violence crimes are governed by the Domestic Violence Prevention Act. Under Rhode Island law, domestic violence offenses are criminal acts that occur between individuals with familial, domestic or romantic relations.
The law provides a list of qualifying persons who fit under that status. This means any spouses, former spouses, adult persons related by blood or marriage, adult persons who are presently residing together or who have resided together in the past three (3) years are considered to have domestic relations.
Further, any persons with a child in common regardless of whether they have been married or have lived together, or persons who are, or have been, in a substantive dating or engagement relationship within the past one (1) year, also qualify under the law.
The court uses certain factors to determine whether a relationship qualifies as one where a domestic violence offense may be charged.
length of relationship
type of relationship
and frequency of the interaction between the parties
When a person is accused of committing a crime against another, with whom that person qualifies as having a domestic relationship, underlying criminal act becomes a domestic violence crime.
Rhode Island law provides a non-exhaustive list of crimes that may be charged as domestic violence offenses. For example, consider the crime of assault.
There are two types of assault:
assault by battery
assault by offer
Assault by battery is defined as the harmful or offensive touching of another. Assault by offer is an intentional act by an offender that does not result in actual harmful or offensive contact but creates an apprehension by the alleged victim of imminent harmful or offensive contact.
When an assault occurs, regardless of type, between individuals with familial, domestic or romantic relations, the offense may be criminally charged as a domestic assault.
Other examples include:
felony assault
disorderly conduct
trespass
vandalism
kidnapping
child-snatching
sexual assault
strangulation
homicide
violation of a no-contact or protective order
stalking
breaking and entering
burglary
refusal to relinquish or to damage or to obstruct a telephone
arson
cyberstalking
cyber harassment
unlawful electronic tracking of a motor vehicle
If any of these offenses is alleged between persons with a qualifying domestic relationship, the crime may be charged as a domestic violence offense.
Upon conviction of a domestic violence offense, the defendant is exposed to the maximum potential punishment, including jail and/or fines, for the underlying crime, as well as special domestic violence penalties.
Domestic violence penalties include having to comply with a no-contact order against the victim, to attending at his or her own expense, a batterer's intervention program appropriate to violent behavior and/or anger management issues, and (2) pay a one hundred twenty-five dollar ($125) assessment to the Rhode Island Coalition Against Domestic Violence.
Call Rhode Island Domestic Violence Defense Lawyer John L. Calcagni, III today to schedule a free consultation.
Domestic violence consequences
Domestic violence offenses often have collateral consequences associated with them. These include the convicted offender being required to surrender his or her firearms as well as being prohibited from purchasing, owning, carrying, transporting, or having in his or her possession any firearms or ammunition.
Depending on the nature and extent of the alleged offense, domestic violence convictions may also implicate state agencies such as the Department of Child Services (DCS) or Department of Children, Youth and Families (DCYF) to intervene in a family's life, impose counseling or other social service requirements, and take legal action that impacts the custody and/or visitation of children.
These agencies often conduct their own administrative investigations allegedly aimed at promoting the welfare of any child exposed to domestic violence by either parent. These investigations can often result in the separate of families, involuntary removal from children and/or parent(s) from the home and loss of parental rights.
What to do if you been charged with domestic violence
If you have been charged with a Domestic Violence Offense, it is important to seek legal representation immediately in order to protect your and your family's rights and to minimize the impact that a criminal charge of this nature may have on your life.
Read our domestic violence case results.
Experienced with the following Rhode Island domestic violence charges:
Domestic Simple Assault
Domestic Vandalism
Domestic Trespass
Domestic Stalking
Domestic Breaking and Entering
Domestic Burglary
Case Results
Charges: Domestic Simple Assault, in violation of RIGL § 11-5-3; Domestic Disorderly Conduct, in violation of RIGL § 11-45-1; and Refusal to Relinquish or Damage to Telephone, in violation of § 11-35-13 – Case dismissed
West Warwick Police responded to a report of a domestic assault between a boyfriend and girlfriend. Upon arrival, the police were met by the girlfriend who informed police that her boyfriend had attacked her several times and tried to take her phone to prevent her from calling the police. Police charged the man with Domestic Simple Assault, Domestic Disorderly Conduct, and Refusal to Relinquish or to Damage or to Obstruct Telephone. He retained Rhode Island Criminal Defense Attorney, John L. Calcagni III, to defend him in this matter. Attorney Calcagni began to negotiate with the solicitor, discussing the man's lack of criminal history and the circumstances surrounding the allegations as well as the girlfriend's tendency for violence. Unfortunately, the girlfriend wished to move forward with the prosecution, so the matter was put down for trial. On the day of trial, Attorney Calcagni successfully negotiated for the dismissal of all charges.
Contact Rhode Island domestic violence attorney John L. Calcagni, III
If you have been charged with a Rhode Island Domestic Violence Offense, contact the RI Criminal Defense Lawyers at the Law Office of John L. Calcagni III at (401) 351-5100 to schedule a FREE CONSULTATION.