Bail in Rhode Island
Securing a client on pretrial release or bail is one of the most important initial aspects to any criminal case. Bail in Rhode Island has many moving parts and each one of them is a crucial to obtaining pretrial release. The issue of bail is first visited at the time of a defendant's arraignment.
In Rhode Island, as a general rule, all criminal matters commence in District Court. The exception to this rule is for cases that are indicted by a grand jury. In those instances, felony and capital offenses commence in Superior Court.
Aside from this exception, however, following an arrest, a criminal defendant is brought within a reasonable time before the District Court for arraignment and for the "purpose of admission to bail."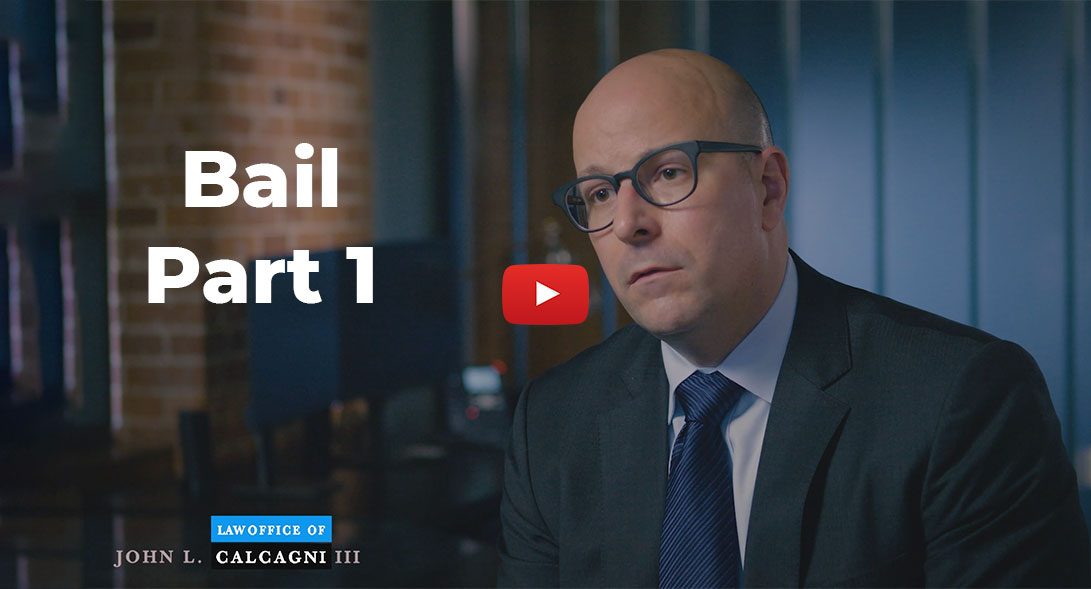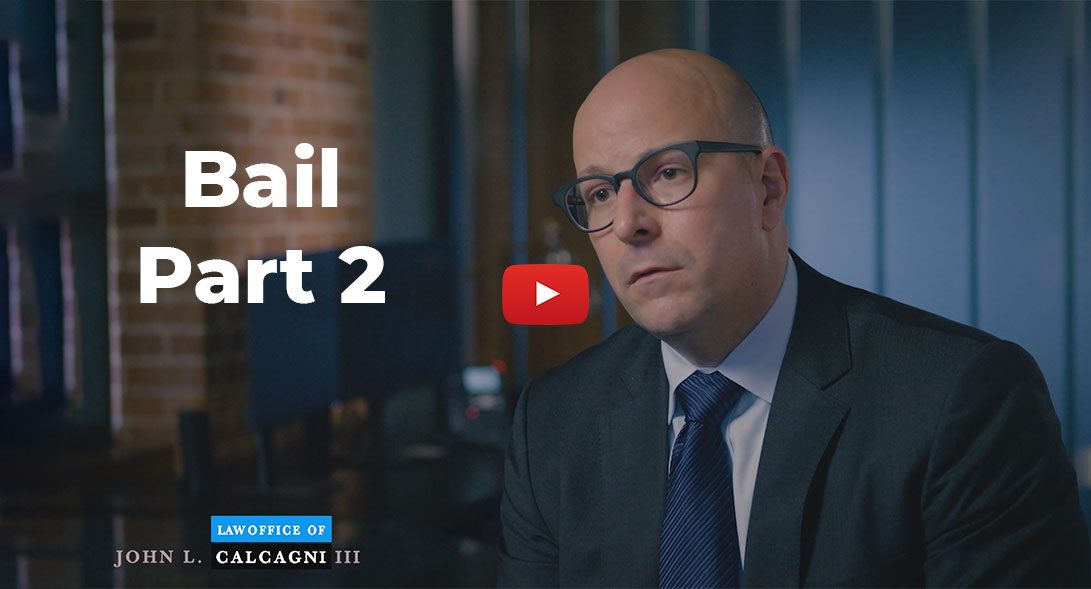 What is bail?
Bail is defined as a security such as cash or bond required by a Court for a defendant's release until a future court appearance. The primary purpose of bail in Rhode Island is to secure an accused's presence at future court proceedings, to include trial.
in Rhode Island Bail conditions also promote community safety by ensuring a defendant or accused will keep the peace and remain of good behavior while released and awaiting trial. The laws regarding bail in Rhode Island are found within the State's constitution, statutes, case law and criminal procedure.
The two main types of bail are personal recognizance, non-monetary conditions and money bail. The defendant may be released on personal recognizance solely by promising future appearances.
If the court is not fully satisfied with personal recognizance, it may also impose other non-monetary conditions to achieve the purposes of bail. Non-monetary bail conditions shall be the least restrictive possible to assure the defendant's presence at future proceedings and community safety.
The conditions must also be set forth in writing and may include, but are not limited to, counseling, no-contact orders, drug and/or alcohol screening, substance abuse treatment, and monitoring by pretrial services.
A court may also choose to set a monetary bail condition or money bail. However, this option shall not be set solely to secure one's detention pending trial. Further, money bail shall only be set if one of the following conditions are met:
The court is reasonably satisfied the defendant will not appear at future proceedings;
The court is reasonably satisfied the defendant will engage in other criminal conduct to others or persons or their property; or
The defendant is a bail, probation or parole violator or has outstanding warrants for failure to appear in court.
For money bail set in a misdemeanor, non-capital felony case, or a capital offense where the State does not object, the amount of bail set is based on the bail guidelines.
The court must also consider the defendant's financial ability to post cash or bond so that any monetary condition imposed does not serve as a means of pretrial detention or punishment.
In addition, the defendant's biographical, residential, employment, educational, financial and family information, as well as ties to the local community will be considered. These can be evidenced by:
pay stubs,
bank statements,
leases,
mortgages,
education records,
utility bills,
character references
Or simply the testimony of:
close family member,
friends,
relatives,
co-workers,
or employers who have personal knowledge of this information.
All such evidence will be independently demonstrated and relevant for the court to conduct its tier two bail hearing analysis to determine if the defendant is a flight risk if released on bail, and if the defendant will appear, without incident, for future court appearances.
If money bail is set by the court, and the defendant can afford to post it, either by cash or bond the defendant will be released.
If a defendant is unable to post bail at that time but is later able after having been taken into custody, the bail must be posted at the Adult Corrections Institute (ACI) where the defendant is being held.
Once the bail is posted in accordance with the terms set by the court, a defendant will be placed on pretrial release pending the disposition of his case.
Who sets the bail and for how much?
The decision to set bail, including the type of bail and bail conditions, lies within the sound discretion of the trial judge. However, in some instances, the terms of bail can be negotiated in lieu of a bail hearing. This arises most often with cases where there is no right to or a presumption against bail.
Negotiated bail conditions save the State the time and effort of proceeding to a bail hearing and provide the defendant with assurances of receiving bail and securing post-trial release.
In such circumstances, the defendant will normally admit that if he proceeded to a bail hearing, the state could prove his guilt is evident or the presumption of his guilt is great.
The parties may then agree, with the court's approval, on bail terms and conditions which will result in a client's release on bail. On the other hand, depending on whether the offense charged has a presumption of no bail and whether the state objects to bail is what will determine the next steps.
Where a defendant is charged with an offense for which there is a presumption of no bail and the State does not object to setting bail, the court shall make a bail determination in accordance with the guideline provisions applicable depending on whether the offense is a misdemeanor, non-capital offenses, or a capital offense.
Alternatively, if the state opposes bail in such cases, the court shall proceed with a bail hearing. Furthermore, in Rhode Island, once arraigned on a felony charge, all defendants must be either indicted or have their cases charged by way of information within six (6) months. If a defendant who is held without bail in Rhode Island is not indicted or informationed within that time period, he is entitled to have the case discharged or bail set at that time.
In Rhode Island, Bail hearings are conducted when the State objects to setting bail in a particular case. The court then conducts a two-part or two-tier analysis to determine whether to grant or to deny bail.
Under tier one, the court weighs the evidence in a light most favorable to the state to determine if a non-bailable offense was committed and if the defendant committed it. If tier one is met, the court may, in its discretion, hold a defendant without bail.
Under tier two, the court may also consider other evidence, unrelated the defendant's presumption of guilt, regarding the defendant's background and ties to the community to determine, within its discretion, if setting bail is warranted.
Who has a right to bail?
In Rhode Island, the right to bail only exists prior to conviction. There is no right to bail for defendants pending appeal after conviction or defendants pending any other form of post-conviction relief.
Defendants pending appeal or post-conviction relief may apply to be released on bail, but that bail determination is within the sole discretion of the trial court. The right to bail in any case also does not extend to juveniles pending adjudication of juvenile criminal matters in the Family Court.
The right to bail also has both exceptions and limitations. The Rhode Island constitutional provision guarantees the right to bail in all cases, except where proof of the defendant's guilt is evident or presumption of his guilt is great for one of the following types of offenses:
Offenses punishable by life imprisonment;
Offenses involving the use of a dangerous weapon by a defendant with a prior conviction for such an offense or an offense punishable by life imprisonment; or
Offenses involving possession with intent to manufacture, sell, distribute or deliver a controlled substances that is punishable by ten (10) years of more. In these cases, there is a rebuttable presumption against bail.
In cases where there exists no right to bail or a presumption against bail, the burden shifts to the defense, after the State meets its initial burden, to establish that bail is still warranted. The defense may call witnesses, present documentary evidence, and if the defendant so chooses, he or she may testify. The State may respond by challenging or offering evidence to rebut that offered by the defense. After the presentation of evidence is complete, the trial judge will exercise discretion to grant or deny bail.
What evidence may be produced at a bail hearing?
"Proof of guilt is evident or the presumption great" means evidence, when considered in the light most favorable to the state, is legally sufficient to support a verdict of guilty.
The State "must make out a case that demonstrates not only a factual probability of guilt, but it must produce evidence that is legally sufficient to support a conviction." This means that the evidence adduced by the state must be admissible at trial and not constitutionally infirm.
The rules of evidence are applicable to bail proceedings. The State may not meet its burden by relying on a defendant's grand jury indictment. Rather, it must produce evidence, subject to challenge and cross-examination by the defendant, which convinces the trial judge that the setting of bail is not warranted.
Both the state and defendant may present evidence at a bail hearing. The parties' evidence may be relevant to either tier one or tier two issues related to bail. In addition to the State's evidence on the issue of a defendant's guilt, there are three types of other evidence that are generally considered. They are as follows:
The habits of the individual regarding respect for the law in regard to whether the defendant's release would pose a threat to the community;
Local attachments to the community by way of family ties, business, or investments; and
The severity of the likely sentence imposed and the question of whether the defendant would remove himself or herself from the jurisdiction of the Court.
These additional forms of evidence may be presented by either party and should be taken into consideration by the trial judge regardless of whether a defendant's bail. As request is made pretrial or post-trial. Thereafter, the Court will determine if in its discretion bail is warranted.
Another consideration is the admissibility to the constitutionality of the evidence offered by the state. As stated above, this evidence must be both admissible at trial and not constitutionally infirm.
An issue often encountered by defense lawyers is the legality or lawfulness of government conduct leading up to a defendant's arrest or confession. This may include 4th amendment constitutional challenges to a defendant's motor vehicle stop, scope or duration of detention, or search such as of a defendant's automobile, person, home or other area to which he has a constitutionally protected expectation of privacy. It may also include 5th amendment challenges to the voluntariness of a defendant's confession.
The judge presiding over the bail hearing, receiving the state's evidence against the defendant, is required to scrutinize the admissibility and constitutionality of the state's evidence when concluding if proof of the defendant's guilt of presumption thereof is evident.
Can my bail be revoked?
Failure to comply with non-monetary bail conditions may trigger a bail violation, which could result in a defendant's bail being revoked; the defendant's bail conditions being modified to include the imposition of more stringent non-monetary conditions or the requirement to post a higher amount of money bail; or being held without bail.
Where a defendant who is released on bail violates the term of his release, his bail may be revoked. A bail violation may be based on violating either an explicit or implicit term of pretrial release.
For instance, an explicit violation may occur where a defendant fails to comply with an enumerated non-monetary bail condition such as failing to attend court-directed counseling or violating the terms of a no-contact order.
Similarly, implicit conditions of release may be violated where the defendant is charged with a new offense while awaiting trial on another offense for which he was granted bail.
Where the State alleges a defendant violated the terms of bail, it files notice with the court under Rule of Criminal Procedure 46 (g), thereby seeking forfeiture of the defendant's posted bail and/or his remand into custody.
In many circumstances, defendants are remanded into state custody upon this filing. Thereafter, the defendant is entitled to a bail violation or bail revocation hearing.
What is a bail revocation hearing?
The rules applicable to bail revocation hearings materially differ from those applicable to initial bail determination hearings. "The determinative question at a bail revocation hearing is a factual one, namely, whether the accused has violated a condition of his release." Though one has a right to have bail set, there is no right against bail revocation or to have bail reset after the defendant is found to be a violator.
The rights at a bail revocation hearing do not equate with the due process requirements required of a trial. A violation need not be proven beyond a reasonable doubt. Rather, the state has the burden of going forward only with evidence that would reasonably satisfy the court that the defendant committed a bail violation. A defendant violates bail by defaulting from failing appear at required court appearances, or by failing to keep the peace or remain of good behavior.
In making its revocation determination, the court may consider hearsay and other evidence which would otherwise be inadmissible at trial, as such forms of evidence are admissible at bail revocation hearings. Further, the court may also consider constitutionally infirm and illegally seized evidence at these proceedings, if factually reliable. The court may rely upon any of this evidence in determining to its reasonable satisfaction whether the defendant is a bail violator, and supporting of a bail revocation decision. These liberal rules make it very easy for the State to prevail and a defendant to lose at a revocation hearing.
Notwithstanding the above, the requirements of due process still apply to bail revocation proceedings. A defendant pending revocation has the right to a speedy determination of this status, just as he did in the first instance regarding the initial question of bail. Accordingly, a bail revocation hearing must be conducted with the same promptness as a bail hearing. With respect to procedural due process, the courts have held that:
[A] defendant facing bail revocation is jeopardized at least as much as one facing revocation of parole or probation or imposition of a sentence for breach of a deferred sentencing agreement. Therefore, the rights afforded defendants in these latter situations must attach to a defendant in a bail revocation hearing.
What will happen if the Judge determines I violated my bail?
After determining that a defendant has violated the terms of his bail, the court has various options at its disposal. There are various sanctions which can be imposed against defendants who are adjudged to be bail violators. Bail violations may be punished as a contempt of court; upon motion by the state, the court can declare forfeiture of the defendants posted bail; a new and higher monetary bail amount may be set with more stringent non-monetary conditions. The judge also has discretion to impose whatever other sanction or punishment he deems to be appropriate.
Forfeiture of bail is also enunciated by statute, which provides that the court shall order bail forfeited, after a hearing, where it is satisfied that
The defendant left the jurisdiction of the Court;
Has failed to appear for a Court proceeding as required;
Or has failed to perform a condition of his bail.
In its notice of bail violation, the state must indicate what sanction it seeks if the defendant is adjudged to be a bail violator. Since revocation proceedings are conducted according to the requirements of due process, the defendant should not be forced to guess what sanction(s) he will be called upon to defend against at the revocation hearing (i.e. contempt or forfeiture). Forfeiture, however, is not required and can be set aside within the discretion of the Court.
Rule 46 (g)(2) allows the Court to set aside forfeiture if it appears that justice does not require enforcement of the forfeiture. Defense counsel may move for the set aside, or the trial judge sua sponte is free to set aside or remit bail as he deems appropriate.
In deciding whether to set aside forfeiture for a bail violation, the court may consider a number of factors. These include the cost, inconvenience and prejudice suffered by the state as a result of the defendant's breach of a condition of his recognizance, whether the surety was provided by family and friends rather than by a bondsman, and any other additional mitigating circumstances that may exist. Other factors include, but are not limited to, questions of whether the defendant's breach was willful; whether a professional bondsman, acting as surety, participated in the defendant's apprehension; and whether the defendant failed to appear, thus interfering with the prompt administration of justice.
Can I appeal a bail decision?
A defendant aggrieved by an adverse bail decision may seek further review. Bail decisions of the District Court are reviewed in the Superior Court.
The Superior Court maintains supervisory power over felony offenses. A defendant seeking review of a District Court Order denying or revoking bail must file a habeus corpus petition with the Superior Court.
Similarly, defendants seeking review of an adverse Superior Court bail determination must petition the RI Supreme Court with a writ of either habeus corpus or certiorari.
Contact Rhode Island Bail Attorney John L. Calcagni, III
For more information or to schedule a free consultation contact Rhode Island bail attorney John L. Calcagni, III.