Multiple Domestic Charges and Rape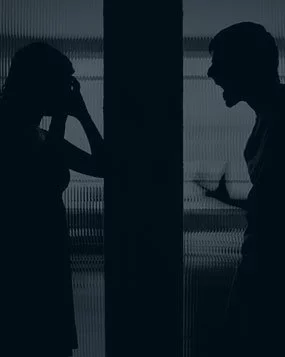 Charges
Rape
Domestic Strangulation
Domestic Breaking and Entering
Domestic Felony Assault
Domestic Failure to Relinquish Telephone
A young man was romantically involved with a romantic woman. Their relationship was toxic and further complicated by children that they each had from prior relationships. The couple was constantly on and off, had mutual jealousy and infidelity issues. Notwithstanding they were addicted to each other physically. One evening, the couple met at the female's apartment as they did nightly. A fight ensued.
Once complete, the man left and returned to his own apartment in a neighboring town. Hours later, police knocked on his door and placed him under arrest for charges of Rape, Domestic Strangulation, Domestic Breaking and Entering, Domestic Felony Assault and Domestic Failure to Relinquish Telephone.
The young woman called 911 and claimed that her ex-boyfriend entered her apartment that evening in a fit of rage after allegedly observing another male leave her place. He then proceeded to choke and strangle her until her airway was blocked, forcefully removed a tampon from her vagina, and raped her, all the while her young children slept in an adjacent bedroom within her small apartment. According to phone records, after the man left, he called the girl incessantly until she answered and in the presence of several police officers in the apartment.
With police present, he allegedly threatened to return to the apartment to "choke her again." Police transported the woman to the hospital where she received treatment, underwent a sexual assault examination and had visible injuries to her neck photographed. The man and his family retained RI Domestic Violence Defense Attorney John L. Calcagni III and his colleague, Attorney John R. Grasso, to represent him in this serious matter.
Upon his initial appearance in RI District Court, the man was ordered held without bail pending the outcome of an evidentiary bail hearing. This was because he was charged with rape, which is a capital offense under Rhode Island law that is punishable by the possibility of life in jail. The man was then transferred to RI Superior Court where he was further ordered held without bail as an alleged probation violator for a prior drug offense. Attorneys Calcagni and Grasso worked quickly to develop extenuating and mitigating evidence regarding their client's family, young children, residential history and employment, all designed to establish his ties to the community.
The attorneys also investigated the charges by filing motions, subpoenaing medical records, forensically examining cellphone data and call records, visiting the alleged crime scene, interviewing the complaining witness, as well as speaking with others who were able to establish her character for violence and jealousy. The attorneys' investigation yielded credible information that the man reconnected with both an ex-girlfriend and the mother of one of his children.
Armed with this information, Attorneys Calcagni and Grasso arrived to Court on the morning of their client's bail hearing. Surprisingly, they persuaded the prosecution to resolve this case instantly, without the need for either a hearing or a trial. Based on the man's admission to Domestic Strangulation, the prosecution dismissed all other charges (including rape) and recommended a sentence of 30 months in jail with subsequent probation. The man accepted this offer, tendered his plea and was sentenced accordingly. He will be parole eligible in 10 months and by accepting this deal, avoided the risk of prosecution for a capital offense and a sex offender registration requirement, if convicted after trial.