Felony Assault with a Firearm: Deferred Sentence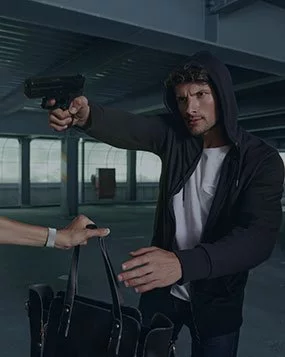 Two men experienced an episode of road rage.  The identity of the initial aggressor remains unknown.  However, one of the men displayed a handgun in an aggressive manner toward the other motorist.  He pointed the weapon in the motorist's direction in an effort to scare him off.   The plan worked.  The motorist slammed on his brakes and then sped off in another direction.  He also notified Rhode Island State Police of what had occurred, identified his alleged perpetrator by vehicle make, model and registration and provided police with the man's physical description.  Police tracked the vehicle to its owner's address.
When questioned by police, the man admitted to his actions and even relinquished to police his firearm.  This led to the man's arrest and criminal charge of Felony Assault with a Firearm in Rhode Island Superior Court.  The man retained Rhode Island Assault and Criminal Defense Lawyer, John L. Calcagni III, to defend him in this matter.  Attorney Calcagni presented his client in the most favorable manner to prosecutors, highlighting his lack of criminal history, career as a college professor, and ailing health.
Based on Attorney Calcagni's arguments and representations, he successfully persuaded the Court and prosecutors to resolve the man's case with a deferred sentence.  Under Rhode Island law, provided the man is not charged with a new offense for two years, his matter will be fully dismissed and eligible to be sealed at the conclusion of the deferred sentence period.  This favorable result also enables the man to avoid a felony conviction.