Bail overview:
This bail overview is intended to help you see all the parts involved with Bail in Rhode Island. Contact the Law Office of John L. Calcagni, III today to schedule a free consultation for more information.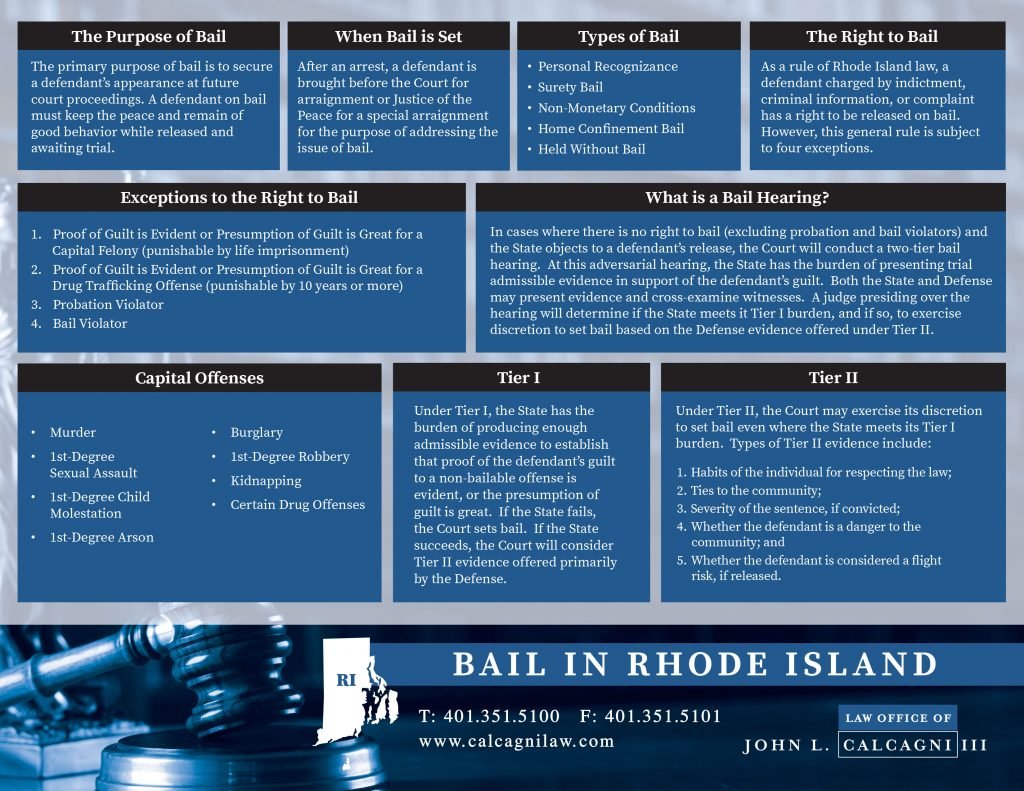 The purpose of bail
The primary purpose of bail is to secure a defendant's appearance at future court proceedings. A defendant on bail must keep the peace and remain of good behavior while released and awaiting trial.
When bail is set
After an arrest, a defendant is brought before the Court for arraignment or Justice of the Peace for a special arraignment for the purpose of addressing the issue of bail.
Types of bail
Personal Recognizance
Surety Bail
Non-Monetary Conditions
Home Confinement Bail
Held Without Bail
The right to bail
As a rule of Rhode Island law, a defendant charged by indictment, criminal information, or complaint has a right to be released on bail. However, this general rule is subject to four exceptions.
Exceptions to the right to bail
Proof of Guilt is Evident or Presumption of Guilt is Great for a Capital Felony (punishable by life imprisonment)
Proof of Guilt is Evident or Presumption of Guilt is Great for a Drug Trafficking Offense (punishable by 10 years or more)
Probation Violator
Bail Violator
What is a bail hearing?
In cases where there is no right to bail (excluding probation and bail violators) and the State objects to a defendant's release, the Court will conduct a two-tier bail hearing. At this adversarial hearing, the State has the burden of presenting trial admissible evidence in support of the defendant's guilt. Both the State and Defense may present evidence and cross-examine witnesses. A judge presiding over the hearing will determine if the State meets it Tier I burden, and if so, to exercise discretion to set bail based on the Defense evidence offered under Tier II.
Capital offenses
Murder
1st-Degree Sexual Assault
1st-Degree Child Molestation
1st-Degree Arson
Burglary
1st-Degree Robbery
Kidnapping
Certain Drug Offenses
Tier I
Under Tier I, the State has the burden of producing enough admissible evidence to establish that proof of the defendant's guilt to a non-bailable offense is evident, or the presumption of guilt is great. If the State fails, the Court sets bail. If the State succeeds, the Court will consider Tier II evidence offered primarily by the Defense.
Tier II
Under Tier II, the Court may exercise its discretion to set bail even where the State meets its Tier I burden. Types of Tier II evidence include:
Habits of the individual for respecting the law;
Ties to the community;
Severity of the sentence, if convicted;
Whether the defendant is a danger to the community; and
Whether the defendant is considered a flight risk, if released.