Understanding Rule 35 Credit to Reduce Federal Criminal Sentences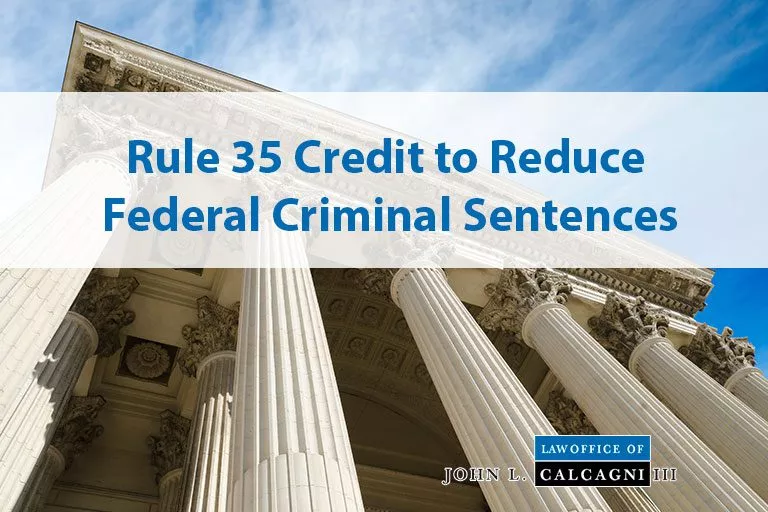 Federal Rule of Criminal Procedure 35 permits the correction or reduction of federal criminal sentences under certain circumstances. Sentences may be corrected based upon arithmetical, technical, or other clear errors within fourteen days of imposition.
A sentence may also be reduced within one year of imposition if the government files a motion to reduce the sentence based upon a defendant's substantial assistance with investigating or prosecuting others.
Substantial assistance or cooperation credit
Substantial assistance or cooperation credit is often given to defendants at the time of sentencing upon the government filing motion for a sentencing reduction, below the applicable United States Sentencing Guidelines (U.S.S.G.) range in accordance is U.S.S.G. § 5K1. However, Rule 35 generally allows the government to move for a similar reduction within one year from the date a sentence was imposed.
Rule 35 – Three circumstances a defendant may receive cooperation credit
Rule 35 also envisions three circumstances whereby a criminal defendant may still receive post-sentencing cooperation credit more than one year after the sentence is imposed.
The first circumstance is where the defendant learns of and shares information with the government more than one year after sentencing, which was not known at the time his sentence was imposed.
The second circumstance is where the defendant provides information to the government within one year of sentencing, but the information was not useful to the government more than one year after sentencing.
The third and final circumstance is when the defendant had information at the time or within one year of sentencing but was not aware that such information was important or useful to the government until more than one year later.
As with U.S.S.G. 5K1 motions, it is within the government's discretion to move for Rule 35 credit, as well as what recommendation to make regarding the amount of sentencing credit or reduction.
If the government files a motion for Rule 35 credit, the court may reduce a defendant's sentence below the applicable U.S.S.G. range or mandatory minimum jail sentence established by law for the crime(s) for which the defendant was previously convicted and sentenced.
Defendants who hope to receive Rule 35 credit should consider the following tips
Maintain a detailed diary or journal of the post-sentencing information you provide to the government such as:
the dates, times, and places of disclosures
substance of information provided
and names of prosecutors and/or law enforcement agents to whom you provided the information
Government agencies often experience turnover or relocation and reassignment of employees. Therefore, the people who worked on your case during the investigation, prosecution, and sentencing may be different than those who act on the information you provide after sentencing.
Maintaining a record of your post-sentencing substantial assistance will also help educate the judge at your resentencing hearing.
Second, keep in contact with your lawyer so he or she is aware of your post-sentencing cooperation. Lawyers should also maintain a record of a client's post-sentencing cooperation, for resentencing hearing advocacy.
If you have questions or concerns about Rule 35 credit, contact the Law Office of John L. Calcagni III, Inc. for a free consultation at (401) 351-5100