Supervised Release Violations Based on Acquitted Conduct in The Federal Criminal Justice System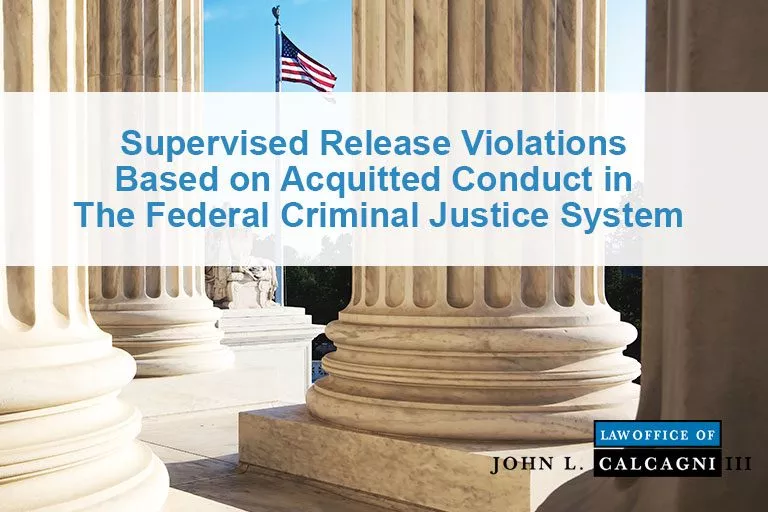 In the federal criminal justice system, defendants who are serving terms of supervised release are required to comply with certain conditions.  
Standard Condition
A standard condition of any supervised release term is to refrain from violating any state or federal law. A defendant who is arrested and charged with a crime for violating the law will almost always be served with a notice of supervised release violation.
Admitting the Violation
Defendants accused of violating the terms of supervised release may admit to the violation and proceed to sentencing, or deny the alleged violation and proceed to a hearing where the government bears the burden of proving the violation by a preponderance of the evidence (i.e. more likely than not that the violation occurred).
In some instances, where a defendant is charged with a new crime, he or she may seek to delay or continue a related supervised release violation pending the outcome of the case.
The logic for doing so is that the defendant cannot meaningfully participate in or testify at the violation hearing without waiving his 5th Amendment privileges to remain silent and against self-incrimination, where doing so may adversely impact the new criminal charge(s).  
However, defendants should be mindful that even after trial and an acquittal or finding of not guilty on the new charge, U.S. Probation and the government may still proceed with the noticed supervised release violation basely solely on the acquitted conduct.
In a criminal trial, a defendant is presumed innocent of all charges unless and until the government proves guilty beyond a reasonable doubt.
Beyond a reasonable doubt is the highest standard of proof known to the law. Alternatively, in a supervised release violation hearing, the government must only prove by a preponderance, or more likely than not, that the violation occurred.
Preponderance of the evidence
Preponderance of the evidence is a lower standard of proof than proof beyond a reasonable doubt. In a scenario where the defendant is accused of new misconduct, a fact finder may conclude the newly charged conduct was not proven to the higher standard of beyond a reasonable doubt, but was proven to a lower standard that the violation (based on the same acquitted conduct) more likely than not was committed by the defendant.
The United States Court of Appeals for the First Circuit (sitting in Boston, Massachusetts) just reaffirmed this principle in United States v. Frederickson, by relying upon the much older decision of United States v. Watts, 67 F.3d 790 (9th Cir. 1995).
If you or a loved one are pending federal criminal prosecution, please contact the Law Office of John L. Calcagni III for a free consultation at (401) 351-5100.