Eligibility Criteria for Federal Home Confinement in Response To COVID-19 and The Cares Act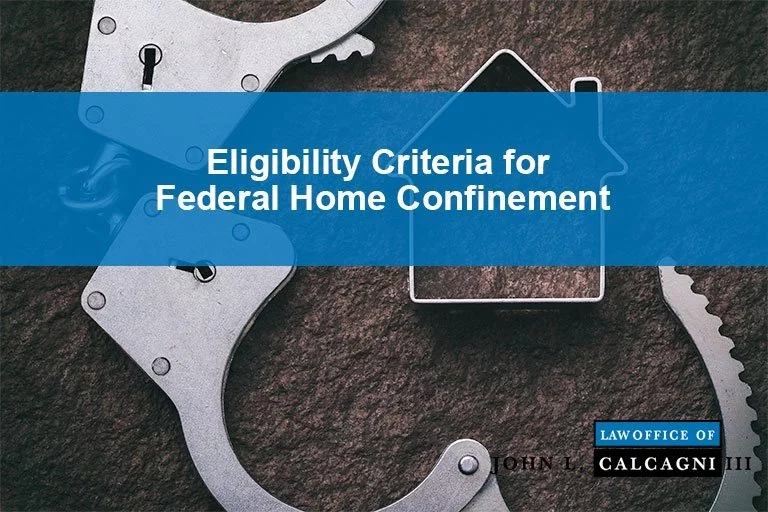 Persons incarcerated at a federal prison have several avenues for potential early release. One avenue, enacted in response to the COVID-19 pandemic, is the Coronavirus Aid, Relief, and Economic Security Act or "CARES Act" of March 2020.
Pursuant to the Act, the Federal Bureau of Prisons (BOP) was ordered to prioritize the use of home confinement as a tool for combatting the risks of COVID-19 for vulnerable inmates.  In response, the BOP began reviewing its inmate population to identify those inmates at risk for serious illness upon contracting COVID-19, as defined by the Centers for Disease Control (CDC) for potential release from prison and onto home confinement. 
Federal Bureau of Prisons Factors
The federal factors for assessing an inmate's eligibility for release onto home confinement have changed over time.   BOP continues to regularly assess inmates to determine home confinement eligibility.  The factors BOP presently considers are:
the inmate's disciplinary history over the last twelve months;
whether the inmate has a viable release plan;
if the inmate's offense involved violence, a sex offense, or terrorism;
if the inmate is low or minimum security and has a low or minimum recidivism risk score;
and whether the inmate engaged in violent or gang activity while incarcerated.
In addition, the inmate must have served at least 50% or more of the imposed sentence or have 18 months or less remaining on the sentence and served 25% or more of it. Lastly, the inmate must be at risk for serious illness from COVID-19 in accordance with CDC guidelines.
These guidelines list several high-risk underlying health conditions to include asthma, immune deficiencies, sickle cell disease substance use disorders, liver disease, diabetes, and obesity. However, the list is not exhaustive and continues to evolve. 
New BOP Guidelines
Under new BOP guidelines, inmates who have served less than 50% percent of their sentences may now be considered for home confinement.
If the warden of a BOP facility determines that an inmate should be referred for home confinement because of COVID-19 risk factors, but the inmate does not meet home confinement eligibility criteria, he may refer the matter to the Correctional Programs Division for further review. This applies to inmates who have not served 50% percent of the imposed sentence.
When an inmate is determined to have a viable release plan and releasing him onto home confinement is more effective in protecting their health than continued confinement, the inmate may be released.
If you have questions about a federal inmate's eligibility for release onto home confinement, contact Federal Criminal Defense Lawyer, John L. Calcagni III, today at (401) 351-5100 or send us a message to schedule a free consultation.