Compassionate Release From Federal Custody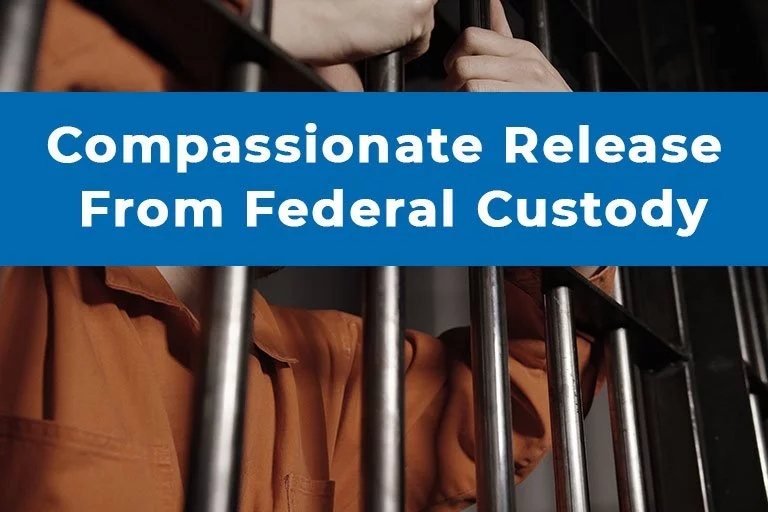 The First Step Act of 2018 expands the ability to reduce federal sentences under 18 U.S.C. § 3582(c)(1)(A)(i) for compassionate release. A request for compassionate release must first be made by the inmate who is in the Bureau of Prisons (BOP) custody. This is known as an administrative request for compassionate release.
If Request is Not Answered or Denied in 30 Days
If the administrative request is either not answered by the BOP within thirty (30) days, or alternatively, denied, the inmate may file a motion for compassionate release with the United States District Court that imposed the original sentence. Inmates presently in BOP custody may wish to avail themselves of a compassionate release request on the basis of COVID-19.
Where to Start
Applicants for compassionate release must first make an administrative request with the BOP facility where they are housed. This is referred to as the administrative remedy exhaustion rule.
Some legal practitioners have argued that waiting 30 days to seek judicial relief by filing a motion in court is both impractical and risky considering the threats posed by COVID-19.
Some district courts around the country have been receptive to this argument, thereby hearing and in some instances, granting motions for compassionate release notwithstanding an applicant's failure to comply with the administrative exhaustion rule.
Other courts have denied motions for compassionate release without prejudice, allowing inmates to make the request again in the future, after establishing they have exhausted their administrative right to seek compassionate release within the BOP.
If a Compassionate Release Request is Granted
Either administratively by the BOP or the district court, the approving authority may impose a term of probation or supervised release with or without conditions that does not exceed the unserved portion of the original term of imprisonment.
Compassionate release requests are granted where the granting authority (BOP or district court) finds that extraordinary and compelling reasons warrant such a reduction where a previously imposed sentence no longer serves the purposes of sentencing under 18 U.S.C. § 3553(a).
Sentencing purposes of 18 U.S.C. § 3553(a)
The sentencing purposes of 18 U.S.C. § 3553(a) include the need for the sentence imposed to reflect the seriousness of the offense, to promote respect for the law, to provide just punishment for the offense, to afford adequate deterrence of criminal conduct, to protect the public from further crimes of the defendant, to provide the defendant with needed educational or vocational training, medical care, or other correctional treatment in the most effective manner, the need to avoid unwarranted sentence disparities among the defendants with similar records who have been found guilty of similar conduct and the need to provide restitution to any victims of the offense.
Sentencing also considers the individual defendant's background and circumstances.
Request Compassionate Release Based on COVID-19
If you are in BOP custody serving a federal sentence, you may wish to request compassionate release based on COVID-19.
Successful applicants must establish they suffer from an underlying medical condition where, if infected by the virus, places them at a high risk of serious illness, and potentially death.
According to the Center for Disease Control, these conditions include:
respiratory illness
asthma
diabetes
liver or kidney disease
heart conditions including high blood pressure and hypertension
An applicant for compassionate release on these grounds should be prepared to provide supporting medical documentation to the BOP when making an administrative request, and/or the court while filing a motion under 18 U.S.C. § 3582(c)(1)(A)(i).
If you believe you are a good candidate for a compassionate release request and are serving a federal sentence, call the Law Office of John L. Calcagni III, Inc. for a free consultation at (401) 351-5100 or email.