Appeal Waivers in Federal Plea Agreements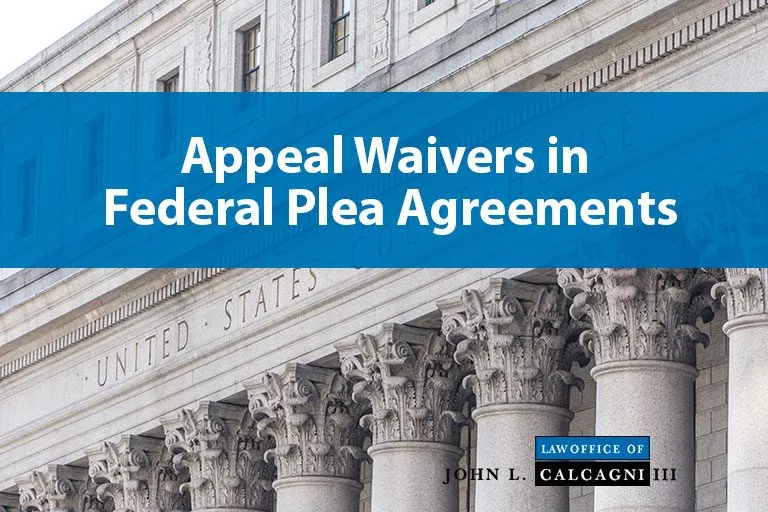 What is a Federal Plea Agreement?
A federal plea agreement is a written agreement that is reached between a criminal defendant and the government to resolve a case short of trial.
These agreements typically call upon the defendant to admit guilt to certain criminal conduct.
What Does the Government Offer in Exchange in a Federal Agreement Plea
In exchange for a defendant's guilty plea, the government may commit to a variety of actions favorable to the defendant such as dismissing certain charges, foregoing prosecution of known uncharged conduct, not seeking otherwise applicable sentencing enhancements available under either the law or U.S. Sentencing Guidelines, and specific sentencing recommendations.
Two Types of Plea Agreements
Plea agreements may either be binding or non-binding on the courts. In practice, most plea agreements are not binding on the courts. Both federal judges and prosecutors frown upon binding pleas, and as such, they are used in a minority of cases.
However, the overwhelming majority of non-binding plea agreements are acknowledged and respected by judges when adjudging criminal sentences. Most modern federal plea agreements also contain waivers of the right to appeal.
Appealing a Sentence
In the criminal justice system, defendants may appeal a criminal conviction after trial, and/or a criminal sentence imposed after trial.
A sentence may also be appealed in a case resolved with a guilty plea. In these circumstances, the defendant may appeal the court's application of the U.S. Sentencing Guidelines to arrive at a sentence, or the actual sentence imposed.
Sentences challenged on appeal are reviewed for reasonableness. Sentences imposed within or below the applicable U.S. Sentencing Guidelines range is considered presumptively reasonable.
Appellate Waivers in Federal Plea Agreements
Appellate waivers contained in federal plea agreements are presumptively valid if the defendant knowingly and voluntarily signed the agreement.
Appellate waivers apply to appellate attacks on the application of the guidelines and the reasonableness of the sentence imposed. However, appeal waivers cannot bar all appellate claims. If denying a defendant the right to appeal would create a miscarriage of justice, courts may refuse to honor the waiver. An example may include a claim for ineffective assistance of defense counsel.
Appellate waivers have become the focus of extensive litigation. It is often disputed whether a defendant actually "knew" or understood the impact of the appellate waiver contained in a written plea agreement.
Appellate courts have held that such waivers must meet stringent criteria to ensure that are knowing and voluntary. This analysis is conducted by looking at the text of the written plea agreement and content of the change-of-plea colloquy with the defendant by the court [U.S. v. Teeter, 257 F.3d 14, 24 (1st Cir. 2001)]. If the judge fails to make an inquiry into the appellate waiver, it may be unenforceable [U.S. v. Staveley, 43 F.4th 9 (1st Cir. 2022)].
Waiving the Right to an Appeal
Some defendants are not comfortable with waiving the right to an appeal. Maintaining that right can be important, for various reasons.
The facts and circumstances of each case should be scrutinized by both the defense counsel and defendant before agreeing to an appellate waiver.
Where possible, negotiate having the appellate waiver removed from the plea agreement. If the government will not agree, consider whether entering into a written plea agreement provides the defendant with any tangible benefits.
If not, or if the benefits are minimal, consider pleading guilty without a written plea agreement. These agreements are not legally required to admit guilt in federal court.
If a defendant admits guilt without a written agreement, he or she retains all appellate rights. Lastly, consider a limited waiver where it applies so long as the court imposes a certain sentence, such as within or below the applicable guidelines range. This reserves to a defendant the right to challenge a sentence that exceeds the guidelines based on unreasonableness.
Questions About Appeal Waivers in Federal Plea Agreements
If you have questions or concerns about appeal waivers in federal plea agreements, contact the Law Office of John L. Calcagni III, Inc. for a free consultation at (401) 351-5100.