7 Crazy Drug Arrest and Seizure Stories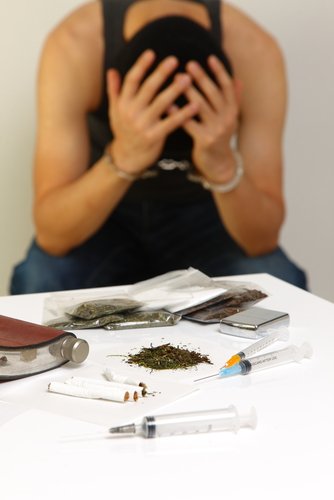 The "War on Drugs" was popularized by the media shortly after a press conference given on June 18, 1971, by President Richard Nixon. This is a war we still fight today. The most common crime that prisoners are in the system for crimes relating to a drug arrest.
How would it feel to wake up one morning, and realize you have no home. That's what happened to this family living in Philadelphia. Police showed up at their front door, unannounced, and arrested their 22-year-old son for a total of $40 worth of heroin. One and a half months later, the police returned and seized the house. This is a slap in the face, where the parents were assumed guilty and needed to prove their innocence to reclaim their home.
Story #2 Task Force officer sentenced to 25 years
We've all seen movies about cops pretending to be the good guys involved in drug arrests, but are secretly being stealing drugs from the scene and turning around to sell the drugs themselves. Well, this is what happens in this story. Mendez, a former Drug Enforcement Administration (DEA) task force officer, was sentenced to a 300-month sentence with additional five years of supervision upon release. He stole narcotics from the criminals he was supposed to investigate and was a dealer himself. Additionally, he conspired to steal 14.9 kilograms of cocaine, and cover up the theft. Of course, he couldn't do all this by himself; he had Chapa-Garcia as his right-hand man.
Surprisingly, this drug arrest happened back in 1989 in Los Angeles. Stashed away in cardboard boxes was more than 20 tons of cocaine and $10 million in cash in a warehouse, secured by nothing more than a cheap $6 lock. Three Mexican citizens were arrested later that day. A fourth suspicious character was searched before leaving the premises at an unusual time. As it turned out, he had 60 kilograms of cocaine on him as well as documents indicating that the warehouse had distributed about 60,000 pounds of cocaine each year for two years.
Story #4 Pablo Escobar
One of the most notorious drug lords was Pablo Escobar. He brought in about eighty percent of the world's cocaine and shipped approximately 15 tons of cocaine per day when at the prime of his career. Not only was he a wealthy man, but also a dangerous one. He was responsible for more than 4,000 deaths before he died. Although his capture wasn't that spectacular, what he negotiated was. The Columbian government negotiated with Escobar to surrender and stop all criminal activity. In exchange, his sentence wouldn't be as harsh, and he would be exceptionally well during his captivity. Escobar surrendered in 1991 and was confined to a private castle which left him wanting for nothing. He had a private bar, jacuzzi, and waterfall. On top of it all, Escobar continued running his drug activities while in prison.
Story #5 Largest value cocaine bust in Toronto
Officers seized 73 kilograms of cocaine, 12 kilograms of crystal methamphetamine and 8 kilograms of MDMA in Nicholas Shouldice's home. Inside his car was an additional 17 kilograms of cocaine. The monetary value of all these drugs, $8.98 million, according to police. The investigation began six weeks before the raid. Shouldice had no prior record and was released on $100,000 bail under the custody of his parents and sister. Conditions of his bail include being under house arrest when alone, forbidden from owning any weapons or more than one cell phone, and that he may not possess any drugs other than medicinal drugs.
Drug-smuggling tunnels are becoming more popular in the past decade. These tunnels lead to the seizure of 30 tons of marijuana between both warehouses, one in the US and the corresponding warehouse in Mexico. A 1,800-foot underground tunnel joined a warehouse in Otey Mesa, California, with a building in Tijuana, Mexico. Agents and officers had been surveilling the area when the officers noticed a truck being loaded and parked at the warehouse in Otey Mesa.
The police established a checkpoint for searching the vehicle after it left Otey Mesa. During their search, they uncovered 10 tons of marijuana. They arrested both the driver and passenger. After getting a search warrant, they searched warehouse and found 15 tons of marijuana and the entrance to the tunnel. Located at the Tijuana warehouse was 4 tons of marijuana. The DEA has estimated that the seized marijuana in the drug arrest is worth $20 million.
Story #7 More than half a million in drugs uncovered
Members of this drug group would travel to New York City for heroin and return to Buffalo. Various obscure parts of the vehicles held packages of heroin. Jose Maldonado and Jonathan Ramos-Ramos sold heroin on a daily basis from their location in Buffalo. Wiretaps caught the defendants talking about their drug activities using their secret code words, in hopes of avoiding a drug arrest.
Come check our our services here at Calcagni Law.