Miranda Warnings Not Required at Traffic Stops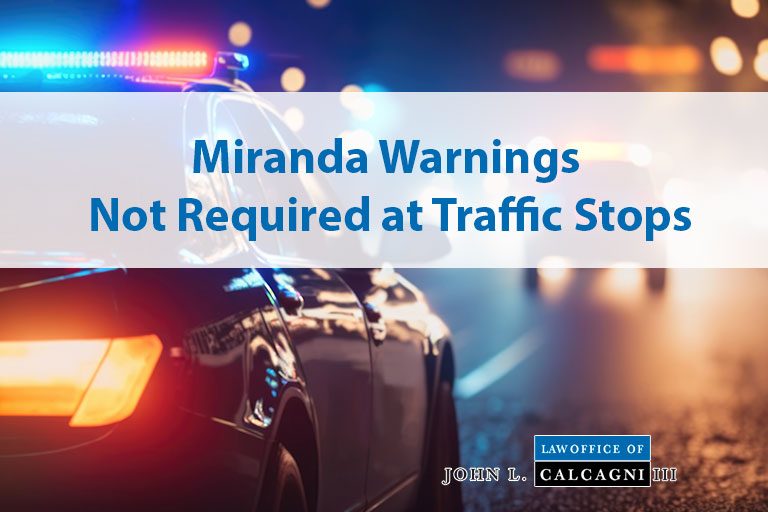 When an individual is held in police custody and subject to questioning reasonably likely to produce incriminating responses, police are required to provide Miranda warnings, which are derived from the famous United States Supreme Court decision of Miranda v. Arizona, 384 U.S. 436 (1966).
Under Miranda, an individual must be warned of:
the right to remain silent
and that any statements may be used as evidence in a court of law
the right to consult with an attorney
to have one present during questioning
the right to have an attorney appointed if they cannot afford to hire a lawyer
Where these warnings are legally required and not given, any statements made in response to police questioning may be inadmissible or non-usable as evidence in a subsequent criminal prosecution.
Why are cops not required to read your Miranda rights during traffic stops?
Contrary to popular belief, Miranda warnings are not required during routine traffic stops. The Supreme Court held in Berkemer v. McCarty, 468 U.S. 420 (1984), that when individual is temporarily detained during a traffic stop, police are not required to provide Miranda warnings.
The Court reasoned that a temporary detention incident to a traffic stop is not the equivalent of being in police custody, which is one of the two factors that triggers Miranda.
What if a traffic stop leads to an arrest, are cops required to read your Miranda rights?
However, an ordinary traffic stop may escalate to being in police custody, thereby implicating Miranda if the motorist or any passengers are arrested or restrained to such a degree that is equivalent to an arrest.
The restraint of a person's freedom short of an arrest may become tantamount to being in police custody if a reasonable person would have felt free to leave or terminate police contact under the circumstances.
The law does not view this freedom to leave from the subjective perspective of the suspect or police officer.
The legal test is objective, based on how an objective reasonable person would feel under the circumstances. Court looks to the totality of the circumstances when conducting this analysis.
Factors to be considered include, but not are limited to:
whether the suspect was questioned in familiar or at least neutral surroundings
the number of law enforcement officers present at the scene
the degree of physical restraint placed upon the suspect (examples: handcuffed, sitting in backseat of patrol car, etc.)
the display of a weapons,
the duration and character of the questioning
Analyzing and litigating Miranda issues is complex, and requires experienced counsel. If you have been charged with a crime and believe your Miranda rights were violated, contact the RI Criminal Defense Law Office of John L. Calcagni III, Inc. today for a free consultation at (401) 351-5100.