An Overview of Forfeiture Proceedings and the Innocent Owner Exception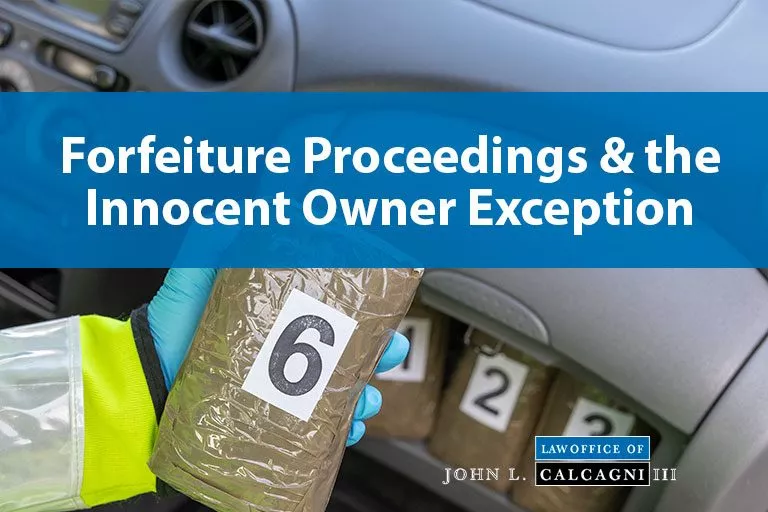 Forfeiture proceedings are initiated when either the state or federal government seizes your property, and wishes to permanently deprive you of your ownership rights to it.
Under both state and federal law, the government may seize property if it has a good faith belief the property was used to commit criminal activity or alternatively, the property was acquired with proceeds generated from criminal activity.
Forfeiture examples
For example, during an automobile stop, if police lawfully search a vehicle and discovery a large quantity of cocaine, the vehicle may become the subject of forfeiture proceedings on the basis that it was used to transport illegal drugs.
Another example may be where police lawfully execute a search warrant for a home and inside, discover both an illegal marijuana grow, a large quantity of money, and a computer that has files stored on it consisting of child pornography. Here, the government may initiate forfeiture proceedings against the home because it was being used to operate an illegal marijuana grow.
The government also seize and seek to forfeit the money because at it was collocated with evidence of other illegal activity (i.e. illegal marijuana cultivation), and presumably, constitutes proceeds from said activity. Lastly, the government may seize and initiate forfeiture proceedings against of the computer because it was used to store obscene images and videos.
When property is seized and becomes subject of forfeiture proceedings, the property owners and/or those with an interest in the property may file a claim with the government, documenting their property interest, and demanding its return. This triggers a civil lawsuit in the court system to determine whether the property should be forever forfeited or returned to its lawful owner(s).
Forfeiture actions may also settle resulting in an agreement to forfeit some of the seized property, and for some of the property to be returned. Litigating forfeiture proceeds is very time-consuming, and expensive.
Those whose property has been seized and becomes the subject of a forfeiture action are best served by engaging legal counsel to assist with declaring ownership or other property rights and claiming the property's return.
Defense to a forfeiture action: Innocent Owner Exception
One valid defense to a forfeiture action is the Innocent Owner Defense. This defense applies where a property owner suffers a seizure by police at a time when his property was in another person's custody.
When this occurs and upon receiving notice of seizure, the property owner must file a claim with the court demanding the property's return. To be successful with the Innocent Owner Defense, the property owner or claimant must first prove ownership of the property by establishing possession, title, or another financial interest in it.
The claimant must also establish that he had no knowledge the seized property was being used in connection criminal activity, or was acquired with proceeds from criminal activity. Using one of the examples described above, if the car used to transport cocaine belonged to the relative, friend, or employer of the driver, the true owner of the vehicle may be entitled to its return by invoking the Innocent Owner Defense upon establishing ownership and lack of knowledge the car was used to conceal and transport narcotics.
The seizure of property and resulting forfeiture actions are commonly associated with or linked to criminal cases where police seize property and have cause to believe it was either used to facilitate criminal activity, or acquired with money generated from criminal activity.
Examples include:
vehicles
boats
planes
residential and commercial real estate
jewelry
electronic equipment
and more
U.S. Currency may also be seized and become the subject of forfeiture proceedings. This includes cash and funds deposited into bank accounts, where there is probable cause to believe the money is linked to criminal activity.
If you have questions or concerns about forfeiture proceedings or the Innocent Owner Exception, contact the Law Office of John L. Calcagni III, Inc. for a free consultation at (401) 351-5100.