DNA as a Defense Tool in Criminal Cases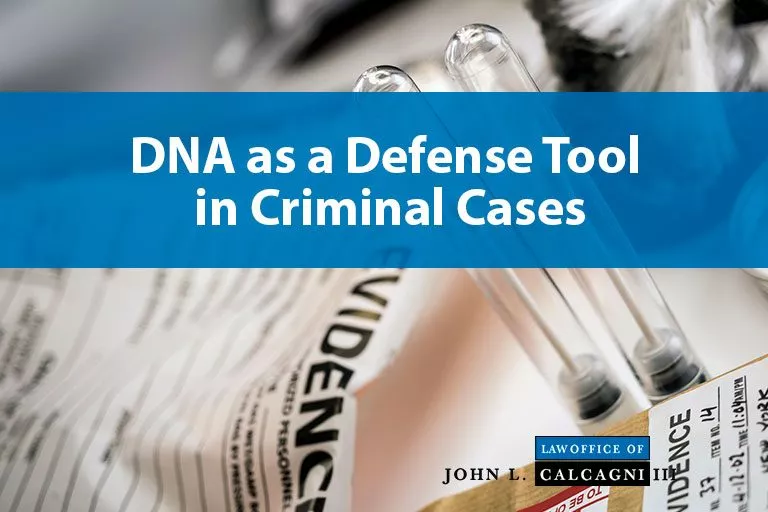 Deoxyribonucleic acid testing also referred to as "DNA" is becoming increasingly popular in the investigation of criminal cases.  Every person has his or her own unique DNA.
What is DNA evidence and how is it collected?
An individual's DNA can be extracted from bodily fluids such as blood, semen, and saliva. DNA exists in saliva because of its presence in skin cells. Because the lining of the mouth is constantly shedding cells, saliva is bodily fluid that contains these skins cells, which carry our DNA.
DNA can also be extracted from skin cells left behind on objects that we touch, and which come into contact with our body, to include surfaces, fabrics, and more.
How does Law Enforcement use DNA?
Law enforcement often test items of evidence for the presence or absence of DNA. If DNA evidence is collected, it is then compared to law enforcement and other databases, which contain known DNA profiles for a possible match to identity crime suspects.
Police also often apply to the courts for search warrants to extract a DNA sample from those suspected of crimes. Police and prosecutors seek matches between collected DNA evidence and known DNA profiles to identify suspected criminal defendants.
How is DNA testing used by the defense in a criminal case?
It is important to know that DNA testing can also be used a defense tool for a criminal defendant.
One example is where DNA eliminates a particular suspect from an ongoing criminal investigation. In a rape case where police have DNA evidence collected from the vaginal cavity of the victim and the perpetrator remains unknown, police will seek a match of the collected evidence and rapists to establish the perpetrator's identity. Those whose DNA profiles do not match the collected DNA evidence sample may safely be excluded as suspects.
Another example of using DNA evidence as a defense tool is to establish self-defense to the charged offense. The DNA from the alleged victim may be obtained and tested to show that he or she was the original attacker, prompting the defendant to act in self-defense.
Obtaining the DNA profile of a crime victim in this circumstance may require creative pretrial motions asking the Court to order the complainant to furnish a sample of his or her DNA for testing purposes.
DNA samples are often collected from individuals using a buccal swab, which is a large cotton swab applied to inside of the mouth to collect a saliva, from which skins cells and a DNA profile may be extracted.
A defense lawyer, seeking a victim's DNA profile, on behalf of the defendant, must convince a court, by a preponderance of the evidence (i.e. more likely than not), that the requested DNA evidence and testing has the potential to result in material evidence for the defendant.
Most recently, the Massachusetts Supreme Judicial Court, held that the defendant's motion to test the DNA discovered under the victim's fingernails may be material in his self-defense claim.  Commonwealth v. Ramos, 490 Mass. 818 (2022), thereby ordered that such testing be performed.  This serves as precedent that advances in both science, medicine, and technology may equally provide protection to the accused, as it provides useful investigative leads who seek to solve and prosecute crimes.
If you have questions or concerns about DNA being used as a defense tool in a criminal case, contact the Law Office of John L. Calcagni III, Inc. for a free consultation at (401) 351-5100.