March 2012 Multiple Gun Charges: Dismissed for Lack of Probable Cause.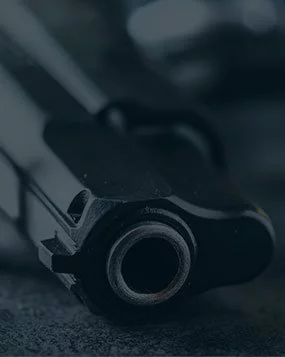 An Army Veteran was recently discharged from the 82nd Airborne Division for medical reasons and relocated from his home state of North Carolina to Massachusetts. Prior to being discharged he befriended a fellow Soldier who he was stationed with at Fort Bragg North Carolina and who was also pending discharge. This Army buddy was originally from Massachusetts. After their respective discharges the veteran and his friend agreed to live together in Massachusetts. Once officially discharged from the Army the veteran packed up his personal belongings and relocated from North Carolina to Massachusetts.
Among his belongings were multiple hunting knives; a handgun; several hunting rifles; and thousands of rounds of ammunition for these weapons. The veteran brought these items to Massachusetts and into apartment where he planned to live with his former Army buddy. After settling in the veteran loaded each weapon and placed them about the apartment in varying rooms and locations.
Soon thereafter the veteran and his Army buddy had a disagreement over household living expenses. The disagreement escalated into a verbal argument and then became physical. According to the Army friend the veteran unholstered a loaded pistol that he wore on his hip around the apartment and pointed it at the friend in a threatening manner. Based on this allegation the friend contacted the police.
Multiple patrol and swat team officers arrived on scene and swarmed the apartment. The veteran was placed under arrest without incident. However a subsequent search of the apartment by police led to the discovery of his many weapons to include the aforementioned guns. As a result the veteran was then charged with multiple counts of unlicensed possession of a firearm and ammunition.
The veteran and his family retained Attorney Calcagni also an active duty Army veteran and U.S. Army Reserves Officer to defend him against these charges. Attorney Calcagni filed a motion to dismiss the charges on grounds that no probable cause existed to support them. Though the veteran possessed several weapons and related ammunition without having a license he was not required by law to have such a license.
Under state law the veteran who was then a new resident to Massachusetts was exempt for a period of sixty (60) days from having a license to possess firearms and/or ammunition. Based upon these indisputable facts Attorney Calcagni successfully convinced both the Court and District Attorney Office to dismiss these charges. Congratulations to this Army veteran.
Update: Seized Property Returned to Army Veteran.
After the firearms-related charges were dismissed against this veteran Attorney Calcagni filed a motion with the Court seeking an order for the return of the veteran multiple firearms which had been seized by police; firearms-related paraphernalia; and knife collection. Specifically the property consisted of one 9mm handgun; two shots guns a 12-guage and a 20-guage; two hunting rifles a .22 semi automatic and a .770 bolt action; two rifle scopes; a bipod; and a holster. The Court granted Attorney Calcagni motion to return property and these objects have since been returned from the police to the Army veteran.