Man Charged with Unlicensed Firearm Carry in Rhode Island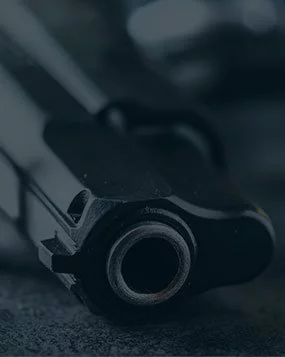 Criminal Charges:
Man charged in the Providence County Rhode Island Superior Court for:
Case Overview:
A troubled adult man was walking his dog in the neighborhood. He saw a group of young kids playing in a front yard. For unknown reasons, he pulled one of the girls by the hair, causing her to fall to the ground. The other kids then attacked the man in the girl's defense. He fought back. One of the kid's mothers woke her husband, who was sleeping, and pleaded with him for help. In fear for the kids' safety, the man retrieved his lawfully owned handgun and ran outside with the gun. He then called off the children, who had knocked the man to the ground. His dog was barking, but still on a leash. The husband displayed his firearm to ward off the man and his dog. The kids dispersed and the man walked off with no further altercation. One of the neighbors called police, leading to the husband's arrest. He fully cooperated with police, explained the reasoning for his actions, and surrendered his firearms. Notwithstanding, the man was criminally charged in Rhode Island Superior Court with Carrying a Pistol Without a License because of the manner in which he carried the gun, loaded and in his hand, outside of his home. While the man was lawfully licensed to own a gun, he was not licensed to carry it in this manner. In fear for this own liberty, he hired Rhode Island Firearms Defense Lawyer, John L. Calcagni III, to defend him in this matter.
Case Result: Deferred Sentence.
Unsuccessfully able to get the man into the Rhode Island Superior Court Adult Diversion Program, Attorney Calcagni was able to persuade prosecutors to resolve this case with a disposition known under Rhode Island criminal procedure as a deferred sentence. Providing the defendant is not charged with a new offense within the next year, he will be eligible to have the charge sealed or expunged from his record. He will also be entitled to the return of his firearms after successfully completing the deferred sentence period and the man will neither incur a criminal conviction nor receive any criminal punishment as part of this disposition.