Domestic Assault and Battery and Larceny Over $250: Dismissed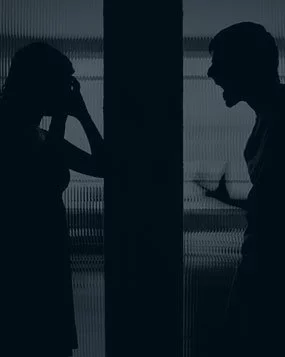 A young man was charged with two counts of Assault and Battery on a Household Member (aka: Domestic Assault and Battery) and Larceny Over $250 following an altercation with his mentally ill and drug addicted girlfriend.   The troubled young lady begged her boyfriend to pick her up from a friend's home in a bad snow storm and then take her home.   He reluctantly agreed.   Upon arrival to the friends, he discovered his girlfriend in a semi-conscious condition. 
He helped her get ready to leave by putting on her socks and shoes as she sat slumped on a bed.   While doing so, the girl woke up in a fit of rage and began attacking her boyfriend physically and verbally.  He did his best to weather the storm of her behavior, attributing her conduct to being under the influence of either alcohol or some other unknown controlled substance. 
He managed to get her into his car and drive her home.  Along the way, she blew up again attacking him verbally and physically with no provocation.  She also tossed some of his possessions outside of the car and into the snow such as his iPod.  This caused the man to stop the car, exit from the driver's side door and remove the girlfriend from the passenger side store.  She struggled with him all throughout this time, and actually broke his eyeglasses in the process. 
Once she was outside the car, he got back inside to drive off.  She then jumped onto the hood to prevent him from leaving, which caused visible damage to the paint.  The man was ultimately able to get away from the girl without any further incident.  He left her behind at a location very close to her home and never saw or heard from her again.  Not long afterwards, police contacted the man to report the incident.  He was fully cooperative with them and even volunteered to visit the station to bring his girlfriend's purse and other belongings that she left behind in his car.  When he went to the station the next day, he was arrested and charged with Assault and Battery and Larceny Over $250.  
The man and his family retained Massachusetts Criminal Defense Lawyer John L. Calcagni III to defend him in this matter.  Attorney Calcagni developed a defense that placed his client on the offense.  With his lawyer's assistance, the man successfully applied to the Clerk of the Court for issuance of a criminal complaint against his ex-girlfriend.   The complaint charged her with multiple counts of Assault and Battery, Assault and Battery with a Dangerous Weapon and Malicious Destruction of Property.  
These charges issued against the girl for physically assaulting the man at her friend's home and in his car, kicking him with shod feet, and damaging his iPod, glasses and automobile.   Attorney Calcagni's offensive strategy turned out to be a very successful defense.   It caused the ex-girlfriend to invoke her 5th Amendment privilege against self-incrimination, thereby resulting in dismissal of the case and charges against his client.