Charged with Desecration of a Grave and Vandalism in Rhode Island District Court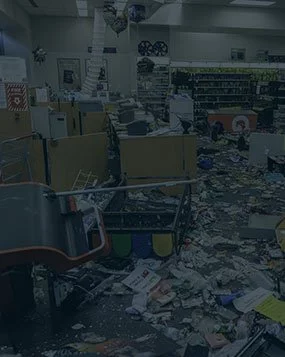 Criminal Charges:
Woman charged in Rhode Island District Court (6th Division), Providence, RI for Desecration of a Grave and Vandalism.
Case Overview:
During the Black Lives Matter (BLM) protests across the United States and in Rhode Island, members of the Providence Police observed three individuals apparently tampering with a statue of Christopher Columbus in the city.  City officials had encased the statute in plywood to protect it from vandalism.   Police officers approached the three individuals, who responded by fleeing on foot.  Once at the statute site, officer noticed that the individuals, apparent vandals, had spray painted the outside wood that protected the statue.  Officers pursued the individuals and placed them under arrest, initially for the felony offense of Desecration of a Grave or Monument.  One of the individuals, a woman who was discovered nearby in a parked vehicle that contained paint cans, gloves, and other apparent tools for vandalism, retained Rhode Island Criminal Defense Attorney, John L. Calcagni III, to defend her in this matter. 
Case Result:
Dismissed. Attorney John L. Calcagni, III filed motions for a probable cause hearing and to dismiss the felony charge, citing that the Columbus statue did not meet the definition of a grave under the applicable section of the Rhode Island criminal that the woman was accused of violating.  Even the Rhode Island chapter of the American Civil Liberties Union weighed in on this issue.  As time passed, the City of Providence ultimately agreed and responded by dismissing the felony charge and filing a new criminal complaint against each of the alleged vandals for the misdemeanor offense of vandalism.  Attorney John L. Calcagni, III lobbied with the prosecution to dismiss the case outright against his client citing her age, lack of record, education, gainful employment, no actual damage to the Columbus statue, and the woman's exercise of her freedoms of expression and political speech.  The prosecution eventually conceded to dismiss the case in exchange for the performance of community service.
Rhode Island District Court (6th Division), Providence, RI
Garrahy Judicial Complex
One Dorrance Plaza
Providence, Rhode Island 02903-2719
Phone: 401-458-3480
Cities and Towns Prosecuted: Barrington, Bristol, Burrillville, Central Falls, Cumberland, East Providence, Pawtucket, Providence, Warren, and Woonsocket.