Assault with a Dangerous Weapon and Discharging a Firearm Within 500 Feet of a Building: Continued Without a Finding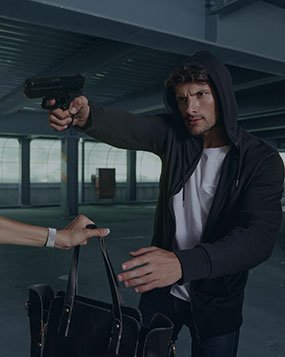 Police in Berkley, Massachusetts charged a man with multiple counts of Assault with a Dangerous Weapon and Discharging a Firearm Within 500 Feet of a Building. These charges followed allegations that the man emerged from his home and fired multiple shots at a vehicle that passed by. Police were called on scene. Upon their arrival, they encountered two young men who were the driver and passenger, respectively, of the passing vehicle. The young men claimed that as they were leaving a relative's home and driving down the street, a man emerged from his home, ran down his lawn to the road and fired at least four shots with a handgun at their vehicle.
Police interviewed the man. He told police he was home sleeping with his wife and house full of small children. He awoke suddenly to the sound of his teenage daughter's car arriving abruptly in the driveway. He then saw a number of missed calls and messages on his cellphone that indicated the young girl had been followed home from work late that night by two men driving a dark colored pick-up truck.
Fearing for his daughter's and family's safety, the man retrieved his 9mm semi-automatic handgun and ran outside to encounter the men who his daughter claimed followed her on the 4-mile drive home, to include a stretch of highway, and pulled up behind her in the driveway. As the man ran down to the road, the truck drove off. Unable to view the license plate, the man emptied the magazine of his weapon by firing a number of warning shots into the air and the wooded area across from his home. Despite his explanation and cooperation with police, he was arrested and charged.
The man and his family retained Massachusetts Criminal Defense Lawyer, John L. Calcagni III, to defend him against this case and multiple firearm charges in Taunton District Court. The prosecution asked the Court to hold the man without bail on grounds of dangerousness at arraignment. The Court had no discretion but to grant this request. A few days later, at an evidentiary bail hearing, Attorney Calcagni prevailed.
Through his cross-examination of the prosecution's witnesses and evidence offered on his client's behalf, the Court released the man on personal recognizance. After all, the man had no criminal record or history, was semi-retired, served as a stay-at-home dad for multiple children, was both a licensed firearm owner and a well-known outdoorsman, and acted out of fear for his family's safety, opposed to any actual malice.
As the months passed, the parties were unable to reach an agreement for a pretrial disposition. The prosecution and complaining witnesses wanted to send the man to jail for his admitted actions. The Defense sought to avoid jail. This prompted the case to be scheduled for trial. Attorney Calcagni prepared tirelessly by drafting motions to limit evidence, preparing character witnesses to present testimony, and finetuning a defense of others claim.
On the morning of trial, once the judge learned of the facts and circumstances of this case, he sought to short-circuit a trial. In exchange for the man's admission to sufficient facts that the shooting did in fact occur, accounting for his motive and surrounding circumstances, the Court signaled of its willingness to continue the matter without a finding. The Commonwealth still pressed the Court to impose a jail sentence. In addition to presenting argument, it also offered impact statements from the complaining witnesses.
Attorney Calcagni argued in response by emphasizing his client's age, lack of criminal record, responsibilities in life, success on bail, surrender of firearms, meritorious defense of others claim, and lack of both injury and property damage from his actions. The Court ultimately decided with the defense by continuing this matter without a finding for two years. Providing the man is not charged with a new offense during this time, the case will be dismissed and he will not incur a criminal conviction from this incident.