Permission to Travel for Criminal Defendants in Rhode Island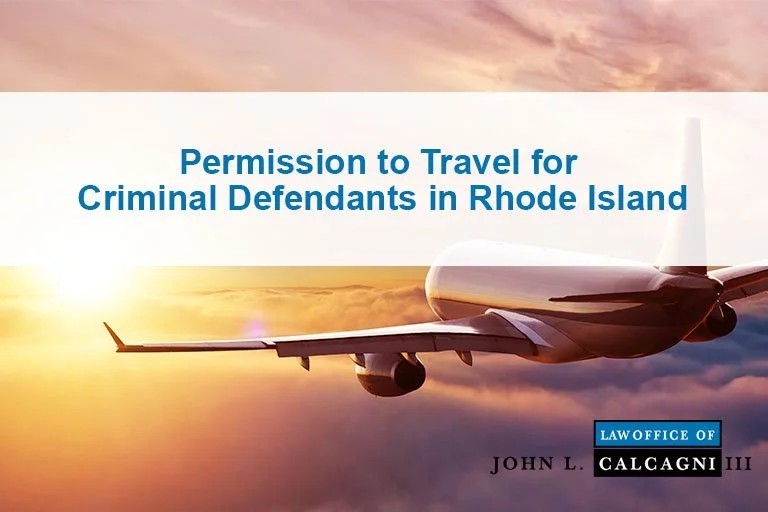 In the Rhode Island criminal justice system, all criminal defendants who are released on bail are restricted to the state and may not leave without the permission of the court. Permission to leave Rhode Island for a criminal defendant while his or her case is pending is referred to as permission to travel.
Permission to travel may be requested, at arraignment, or at any time thereafter by a defendant upon filing a motion with the Court. The request must designate the state(s) where the defendant wishes to travel and the reasons for travel such as:
residence
employment
vacation
or otherwise
The request must be in writing using the court's permission to travel form, or defense counsel may create an original motion. Permission to travel form is provided by the court for convenience to the parties. If the request to travel is made by motion, some judges may also direct that counsel to complete the court's travel form. Any request to travel should contain the out-of-state address where the defendant seeks to go, especially if for a residence. If the defendant seeks to travel out of state for purposes of a vacation, the request should include the address for the hotel or residence where the defendant will be staying while outside of Rhode Island, the dates and mode of travel, and a phone number to contact during the out-of-state travel period.
Once permission to travel is requested, the prosecution will be offered the opportunity to object or assent to the defendant's request. If the prosecution assents, permission to travel is typically granted by the Court. If the prosecution objects, the Court will receive the parties' arguments for and against the defendant's travel request and then issue a decision to approve or deny the request.
If the Court approves a defendant's request to travel for purposes of continuously living or working out of the state, court records will reflect that out-of-state travel is approved as a condition of bail. If the Court approves the request for short-term out-of-state travel, such as for a vacation or business trip, the defendant may be required to reappear in Court upon his or return to provide proof that he has returned to Rhode Island.
 If you are on bail in Rhode Island and seek permission to leave the state for any purpose, call the Law Office of John L. Calcagni III for a free consultation. You may reach us at (401) 351-5100.